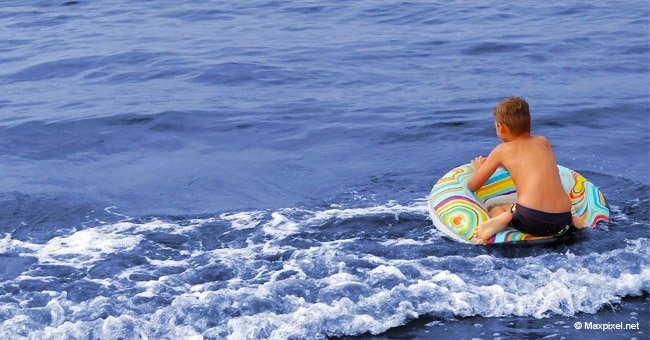 3-year-old boy goes underwater for two minutes when his swimming ring flips over
A little boy was having swimming lessons at a kindergarten in Zhangjiakou city, Hebei province when things turned sour. As a learner, he wore a rubber ring to stay afloat.
At one point, the toddler flipped over in the rubber ring and couldn't turn it back. He kept struggling to turn over and no one in the pool noticed.
A three-year-old boy in north-west China found himself in trouble while taking swimming lessons. He was taking part in swimming lessons at a kindergarten in Zhangjiakou city, Hebei province when the accident happened.
Surveillance footage showed the boy wearing an inflatable ring playing in the pool among nine other classmates. All of a sudden he flips backwards and ends up with his head underwater and feet in the air.
For more on this story go to our Twitter account @amomama_usa. The boy desperately tries to stay afloat and flip himself over.
He's seen wriggling his legs in the air vigorously. His teacher, who was also in the pool, could be seen attending to another student and didn't notice the drowning child.
The other children who were beside the three-year-old didn't notice that something was wrong with their classmate as they carried on playing in the water. After struggling in vain for about 40 seconds, the child eventually ran out of breath and passed out.
He's seen floating motionless at one end of the pool. Nearly half a minute later the boy was finally discovered by his shocked teachers.
The child got carried out of the water but he wasn't breathing and his faced had turned purple. He was taken to a hospital where doctors managed to save him.
The boy remains under intensive care at the hospital. Drowning was said to be the leading cause of injury death among children aged 1 to 14 years old in China.
This was according to a Global report on drowning commissioned by the World Health Organization (WHO) in 2014. Almost twice as many children aged between 5 and 14 die in the country from drowning than from traffic accidents.
Please fill in your e-mail so we can share with you our top stories!