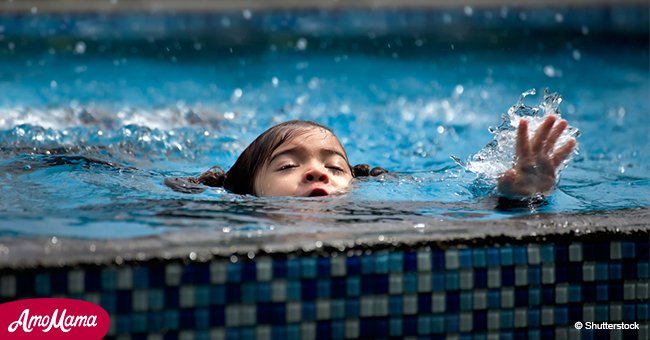 Warning issued as growing number of children drown while parents are distracted by their phones
German lifeguards warn that children are at risk of drowning because the parents don't pay any attention to their children when they are in swimming pools.
The German Lifeguard Association (DLRG) has linked a series of incidents of drownings that have occurred recently to parents who were too occupied with their phones to keep an eye over their children, the Guardian reported.
The DLRG is the largest organization of its kind in the world, provides 40,000 lifeguards at German beaches, lakes and the coast.
Read more on our Twitter account @amomama_usa.
Peter Harzheim of the German federation of swimming pool supervisors added that before the advent of cell phones, parents and grandparents bonded during the time they spent swimming.
However, now increasing number of parents are too distracted by their cell phones even to pay any attention to their kids.
DLRG spokesman, Achim Wiese, has urged parents and grandparents to leave the device while their children are in the water.
"Too few parents and grandparents are heeding the advice: when your children and grandchildren are in the water, put your smartphone away."
Achim Wiese, Guardian, August 15, 2018.
The Guardian also reported that more than 300 people have drowned in Germany so far this year, including 20 children under the age of 15 and 40 young people between the ages of 16 and 25.
Recent cases of drowning also include a seven-year-old boy whose body was found in an open-air pool, where he was seen swimming with his siblings in Bavaria.
Lifeguards have been warning people that the reason for the increase in the number of drowning is because people are not taking the risks of swimming in water bodies like lakes and rivers that seriously.
"The drowning risk in these places is very high since there are no lifeguards: a drowning man has little chance of rescue," Wiese said.
The German Swimming Association (DSV) has called for the government to provide more support for swimming lessons and it has warned that because schools in Germany have no access to swimming pools, the country is in danger of turning into a place of non-swimmers.
In a related story, a mother, heartbroken over the death of her twins, opened up about the details of how her children lost their lives after they drowned in the babysitter's swimming pool.
Elijah and Elyssa Orejuela, from Tennessee, drowned in their day-care center's swimming pool in July 2018, as reported by Knox News.
The twins were rushed to the Children's Hospital after they were found by the babysitter lying in the deep end of the pool.
Elyssa was pronounced dead on the same day while Elijah lost his life a couple of days later.
Please fill in your e-mail so we can share with you our top stories!