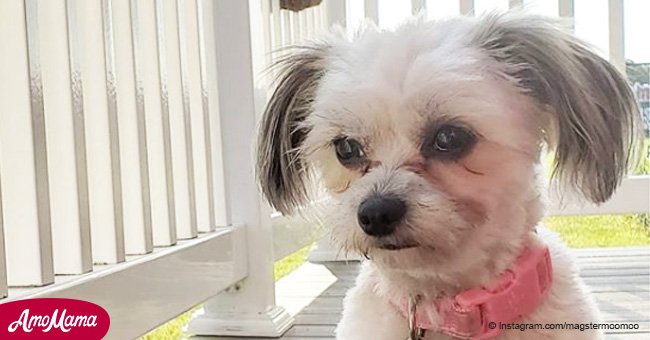 Dog tries to wear dad's dentures and gets new 'Cheshire Cat' smile
Maggie, the adorable dog, once tried out her owner's father's dentures when he was asleep. He woke up and found the dog looking like the Cheshire cat from "Alice in Wonderland."
The father was stunned when he opened his eyes and saw that the pup had worn his dentures.
The Twitter user named Eunice, who is also Maggie's owner, shared the photos of her dog with her dad's dentures and it instantly became a viral hit.
The unusual moment happened a few months ago, but Eunice only thought of sharing it with her followers in August,
Follow us on Twitter at AmoMama USA for more viral stories and videos.
On her Twitter post, she wrote, "A few months ago my dog, Maggie, stole my dads [sic] dentures while he was napping (his gums had been hurting him so he took them out mid-afternoon) and he found her like this."
Supposedly, Eunice found the photos hilarious and couldn't help but share the fun with her followers.
She posted photos of the dog, which her father took, and it showed Maggie flashing a very unusual smile.
Even though the dog was very weird to look at, somehow, she still looked adorable wearing fake teeth made for a human.
Since the post was published on Twitter, dog lovers all around the world gushed over the adorable pup.
As of now, the post has received more than 21,000 retweets and over 51,000 likes.
Some Twitter users also shared photos of their dogs, which evidently looked a lot like Maggie.
Eunice took the time to reply to the dog owners, and they all gushed at how all their dogs looked so much alike.
One Twitter user, Tony Hillis, had some fun and even made a meme of Maggie.
A user named Keeru, on the other hand, asked if Eunice's father had to get new dentures afterward. Eunice enthusiastically responded and said yes.
Since becoming viral, Maggie's Instagram account now has a little over 700 followers.
Meanwhile, another female dog became a huge hit on the internet after pictures of her shopping trip were uploaded on social media.
The adorable pup couldn't help her excitement over her surroundings at the grocery store.
Her owner revealed that it was her second visit to the store, but she was asleep during the first one, which explained her look of astonishment.
Please fill in your e-mail so we can share with you our top stories!