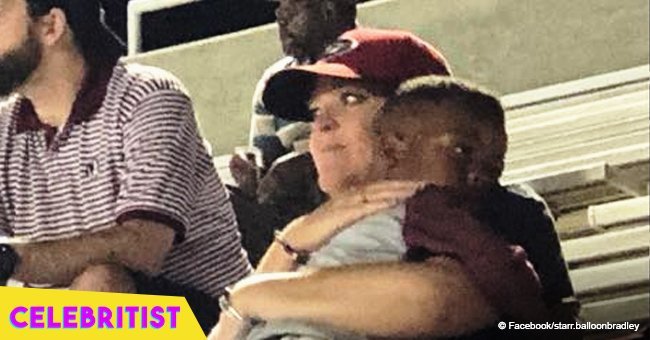 Heartwarming photos of little boy being cuddled by a stranger at football game go viral

When Star Balloon-Bradly took her nephew, Isaiah, to a high school football game in Georgia, she never expected that the child would make a friend in the way he did it.
According to the post that Star shared on Facebook, it was a normal football night for her and Isaiah until he saw a woman he had never seen before and decided that he wanted to meet her.
The boy walked to her and sat on her lap. When Star noticed it, she thought that he might be disturbing the then-unknown lady, but the truth was completely different as she talked to him for about 20 minutes before leaving at halftime.
A couple of weeks later, Star and Isaiah went to another football game where the mysterious lady was also present.
A SECOND ENCOUNTER
As soon as they saw each other, the woman waved at him, and Isaiah joined her again. While Star thought that their interaction would be similar to the previous one, she noticed that the woman was gently hugging and rocking Isaiah while his head was laying on her shoulder.
The shocked aunt asked the lady, who then introduced herself as Mrs. Angela, if she wanted her to get Isaiah, but Angela kept saying that both she and the boy were fine. Star apologized and said that she didn't know why the boy kept doing so, but Angela said that he didn't bother her.
BEAUTIFUL PHOTOS
Thankfully, Star took a couple of photos of that day and posted them on Facebook, showing that Angela really looked like if she was Isaiah's mother.
"She then went on to say she only has one child who is 15 and moments like this are priceless!!! With all of the racial tension that's going on I'm glad to see the pictures like these because it goes to show color don't matter to a lot of people," pointed out Star.
A BOY HELPING A STRANGER
Maurice Adams, who was eight years old when he did such wonderful action, was recorded helping a senior lady that he had never seen before to go up the stairs in Central Georgia.
Maurice was in his parent's vehicle when he noticed that an old lady with a walker was having a difficult time walking up the steps of the stairs in front of her.
He asked his mother if he could get out and help her, and the woman obliged, so he jumped out of the car and gave the lady a hand. Once they reached the end of the stairs, they shared a hug, and the boy quickly ran back to the vehicle.
Please fill in your e-mail so we can share with you our top stories!