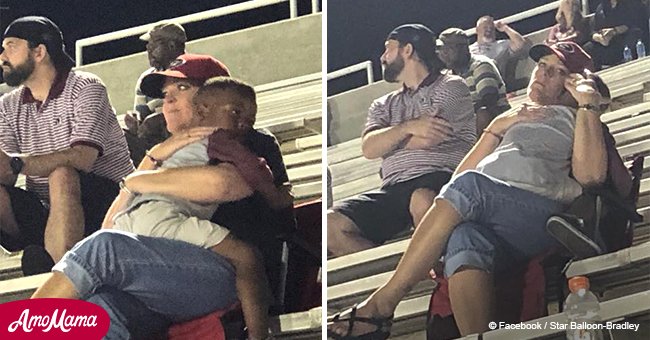 Woman hugs little boy at a football game and the picture goes viral

A female stranger was photographed hugging a little boy at a football game, which quickly went viral.
Star Balloon-Bradley, from Georgia, was at a Lowdnes High School football game in August with her nephew, Isaiah, when the boy decided to talk with a woman.
The same thing happened two weeks later. However, this time, Balloon-Bradley couldn't keep this story from the world. She took to Facebook to share it. Follow us on our Twitter account, @amomama_usa, to learn more.
"I don't know who this lady is but if you know her tell her she's awesome," she wrote. "Isaiah walked up to this lady at our last home game two weeks ago. He sat on her lap and they were talking like they knew each other. It lasted no more than 20 mins. However, she left right after halftime to meet up with her little girl."
"Fast forward to tonight…not long after we sat down at the game Isaiah spotted her. She waved at him and he made his way up to her. I thought their interaction would be the same as last time but I was wrong."
"Isaiah walked right up to her smiling, crawled in her lap and laid his head down on her shoulder. She welcomed him with open arms. This lady patted and rocked Isaiah to sleep like he had given birth to him. It was the sweetest!!"
Balloon-Bradley said she and Thameka Miller, Isaiah's mother, asked the woman if he was bothering her. The woman, however, told them that Isaiah was fine and even called the boy her new friend.
"She kept telling us she (and he) was fine! Isaiah and this lady has never met before other than those 20 mins at a game 2 weeks ago. I told her tonight that I am so sorry and I don't know why he keeps bothering her."
"She replied he's no bother and to not say that again. She said he was her new friend. She then went on to say she only has one child who is 15 and moments like this are priceless!!!"
Balloon-Bradley took photos of the two. In the sweet snaps, Isaiah is seen looking perfectly content in the woman's arms. It seems as though he trusts her enough to fall asleep.
"With all of the racial tension that's going on I'm glad to see the pictures like these because it goes to show color don't matter to a lot of people. It really don't!! Arguing over stuff as such makes us miss the simple pleasures in life," Balloon-Bradley wrote.
Through social media, she was able to track the woman down and identified her as "Mrs. Angela."
After the photos went viral, Mrs. Angela shared the following:
"To God be all praise, glory, and honor! I have been overwhelmed with emotions today as I have read the post Star Balloon-Bradley shared. I am humbled by the kind words everyone has spoken. Isaiah is absolutely adorable! I pray people will Jesus in all this [and] know His love is beyond measure [and] that is how I want to love [and] life my life. I'm not worthy but He sure is!"
Another simple act of kindness that captured the hearts of many people is when James Johnston of West Virginia decided to lend his hand to the man mowing the lawn with so much difficulty.
He wrote on Facebook, "I said no was I gonna let this guy tackle this on his own. So I turned around and went back and unloaded my mower and drove across the street and ask the gentleman if I could help."
Johnston's kindness didn't end there. He also launched a GoFundMe page to raise enough money to buy the couple a riding mower.
Please fill in your e-mail so we can share with you our top stories!