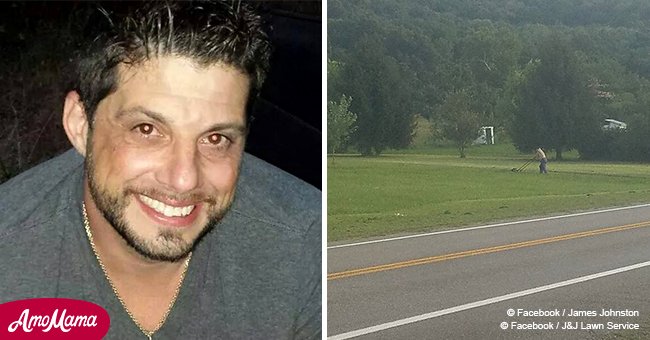 Man helped stranger cut his lawn and his good deed goes viral

James Johnston of West Virginia was driving home one day when he saw a man struggling to mown his large lawn.
The owner of J&J Lawn Service was struck with the urge to help, although he had just spent 12 hours cutting other people's lawns.
He was happy to head home and relax but he just couldn't shake off the urge to lend a hand to the man mowing the lawn with so much difficulty.
"I said no was I gonna let this guy tackle this on his own. So I turned around and went back and unloaded my mower and drove across the street and ask the gentleman if I could help," Johnston wrote in a now-viral post on Facebook.
Follow us on our Twitter account @amomama_usa to learn more.
When the man's eyes lit up, Johnston took it as a yes and immediately rolled up his sleeve to help. He ran down, jumped on his mower and went to work.
CHANGING OTHER PEOPLE'S LIVES FOR A MOMENT
While mowing, he noticed the exhausted man resting his head on his wife's shoulder.
Mowing the large lawn only took Johnston 15 minutes. When he finished, he gave the couple a thumbs up and proceeded to load his mower up.
The wife then walked up to him and profusely thanked him. She told him that their riding mower broke down and that her husband had been forced to use a push mower that day.
"I changed their life, for a small moment. I hope someone reads this and feels like doing something good for someone tomorrow. I'm grateful to be where I'm at and I'm thankful for the people that help me get here," Johnston wrote.
The Facebook post has been shared 161,000 times and has drawn over 110,000 comments.
SHOWER OF PRAISES
Netizens heaped praises on him for his act of kindness.
"Kindness shall be returned to you tenfold! Made my day reading this," wrote Susan Maden Beaver.
"Such a sweet thing to do! It would be wonderful if there were more people like you! God bless your kind hear!" commented Barbara Camp.
Johnston's kindness didn't end there. He also launched a GoFundMe page to raise enough money to buy the couple a riding mower.
Please fill in your e-mail so we can share with you our top stories!