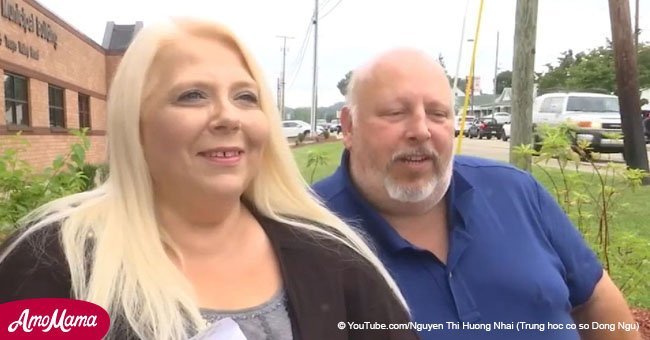 Couple from Carolina found a novel way to get married, all because of Hurricane Florence

A couple from West Virginia were forced to do something creative when their original wedding plans were cancelled due to Hurricane Florence.
Marsha Bradbury and Jonathan Gillenwater are both 56. Their wedding was set to happen on Sunday, September 16. They requested only 30 guests to attend.
The couple lived in a town named Hurricane in West Virginia. The ceremony would take place in another town named Salvo, which is located on the outer banks of North Carolina.
Follow us on Twitter for more @amomama_usa.
There would have been a small wedding and little decor because Bradbury told PEOPLE that the setting in Salvo was its own decor.
"We had this beautiful rental home that overlooked the sound and we going to be married close to sunset because the photos during sunset there are phenomenal."
As Hurricane Florence approached, Bradbury started tracking it like a hawk. She began to worry while her fiancé was much less concerned.
She told her fiancé he may "as well talk to the wall because [she's] going to worry."
When Dare County issues a mandatory evacuation, Bradbury's worst fears were confirmed. They had a few days to come up with a whole new wedding.
It didn't help that the couple had taken the week off for the wedding and so they couldn't reschedule. This wedding had to happen soon.
It looked like others in the area were going through a similar dilemma. Mayor of Hurricane, Scott Edwards, informed the couple that most places around town were booked ahead of the hurricane.
He suggested the idea of using City Hall, however, a space that's normally off limits for such events. Not only that, he offered it for free.
This helped a lot because Bradbury's finances were mostly "tied up in North Carolina," the original setting for the wedding.
Offices were already closing, so the couple's travel insurance on the North Carolina rental home wouldn't be refunded anytime soon.
The combination of factors meant they "didn't have a whole lot [to spend]."
Friends and neighbours chipped in. Some donated flowers, photography, free services from D.J. Baily Turner, and even from a wedding planner, Alyssa B. Events.
"I have candles and things like that but in the meantime I've got my gracious lady - the wedding planner. It's just pretty phenomenal what all is happening."
Bradbury is down to earth about the whole situation despite the fact that it seemed personal to her plans.
We already had the napkins printed and the whole bit. September is hurricane season and it would not have surprised me in the least for something to occur."
She added:
"But I sure wasn't expecting it to be smack dab right in the middle of my plans. I'm feeling a lot better about the whole situation. The whole thing just had me so upset—just not knowing. Of course, it would be a perfect world if all a bride had to worry about was getting ready and walking down the aisle. That's a perfect world but obviously we don't live in one of those."
The couple now has the key to the city and tons of new friends.
"But now, I have the key to the city, essentially, from Friday evening until throughout Sunday night," she continued. "What's been happening—the way people have come out of the woodwork that we don't even know—we've just been blown away."
Thanks to Edwards, they'll be blown away just by the idea of being wed "in Hurricane during the hurricane."
Another newlywed couple insisted on some sort of ceremony and ended up having a "dry run" of their wedding.
Serra Fairley and Brian Kurian had also spent months planning their wedding for it to happen on September 13. She was obliged to let her 115 guests it was cancelled by sending a Facebook message.
Fairley told Inside Edition she was "devastated" and felt like she "lost everything." Her husband had worked two jobs and was "more than willing to say 'I do' in the hurricane."
Instead, Inside reporter Steven Fabian served as officiant for a "dry run" of the ceremony. It was a moment of joy and laughter amid turmoil.
And a Myrtle Beach couple did the real deal on Thursday noon. Doris and Jim stuck to their September 13 date and got married in the "ghost town."
The officiant was "tickled to death" about it but fortunately, they were well-prepared for the hurricane which was to hit soon after.
"We live in Berkshire Forest. We do have... a generator and we're boarded up." The newlyweds will weather the storm indoors.
Please fill in your e-mail so we can share with you our top stories!