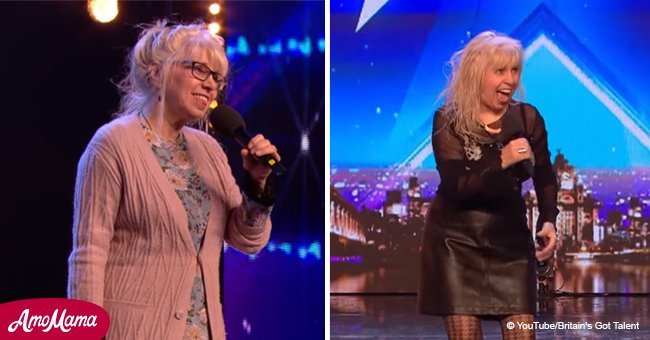 Grandmother steps onto stage and performs like a true rockstar
Everyone will agree that some song covers are better than others. Many great musicians have honored their icons by singing their biggest hits and sometimes the cover even ends up better than the original.
YouTube is full of aspiring songsters trying to make it big by imitating their idols, and here are three videos of really talented singers that may surprise you.
When this 68-year-old granny got on the stage at "Britain's Got Talent," all the judges looked decidedly perplexed.
How was this dowdy old woman in her pink cardigan and old lady florals planning on winning a talent competition?
Was she going to knit them a tea-cozy?
Instead, she started stripping off her clothes, leaving the judges looking even more concerned about what her act was going to be.
Underneath the good granny exterior was a leather-clad rock star, dying to come out. And rock out she did!
Jenny Darren performed AC/DC's "Highway to Hell" in a show so convincing, the audience went wild.
She even had Simon Cowell clapping along with the crowd and judges playing air-guitar – not something you see every day.
Speaking of Cowell, as anyone who watches any show where he is on the panel can attest, he is one tough man to please.
So what did Jeff Hutt do that impressed Cowell so much on "The X-Factor"?
Gutt chose to sing "Hallelujah" by Leonard Cohen. One of the most difficult songs to sing - how can one improve on perfection?
This song has been covered by many iconic legends, but shockingly, Cowell pronounced Gutt's rendition one of the most brilliant auditions he has ever heard.
LeAnn Rimes proved that imitation is the highest form of praise with her medley of Patsy Cline songs to honor a legend who died at just 30 years old.
Using a black and white filter to capture the essence of the moment, and an old-fashioned microphone, her tribute to Cline was incredible.
The singer's honest emotion and strong vocals impressed the audience as she belted out soulful renditions of Cline's classics, like "Leavin' On Your Mind" and "Crazy."
She was in tears by the end of the performance, and so were most of the audience.
Here are all three videos, which one do you like the most?
1. ROCK N ROLL GRANNY
2. HALLELUJAH, THIS MAN CAN SING
3. RIMES EMBODIES PATSY CLINE
Please fill in your e-mail so we can share with you our top stories!