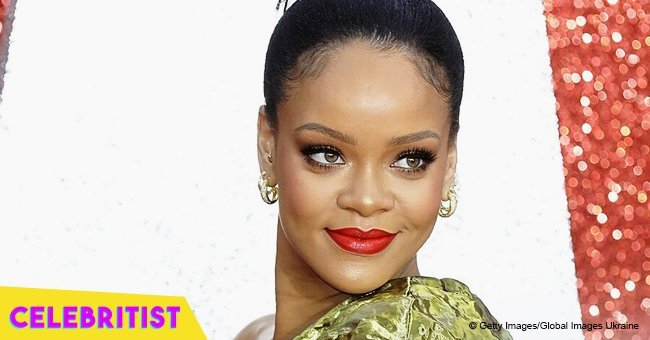 Rihanna shows off weight loss in sheer dress at 'Savage x Fenty Fashion Show'
Rihanna unveiled her lingerie line, "Savage X Fenty" at the New York Fashion Week on Wednesday, but it was not only the trendsetting show that made headlines. The singer and entrepreneur flaunted a slimmer figure as she strutted down the runway at the end of the day.
Donning a ruched brown dress that left nothing to the imagination, Rihanna made her way down the faux grass pathway to the sound of audience applause.
Her brassiere was visible under the mid-length gown, and she topped it with a matching veil (which she took off later), sunglasses, and strappy heels. A messy up-do and brown matte lipstick completed her look.
RIHANNA'S ADMISSION ABOUT HER WEIGHT
The "Lemon" singer debuted a slimmer frame, but her curves were breathtaking as usual. Rihanna had earlier admitted to having a "fluctuating body type." In an interview with The Cut, she elaborated:
"One day I can literally fit into something that is bodycon, and then the next day — the next week — I need something oversized; I need a little crop here and a high-waist there to hide that part, you know?. I really pay attention every day when I go into the closet about what's working for my body that morning."
RIHANNA'S EFFORTS TO STAY IN SHAPE
A close source to the singer revealed to HollywoodLife that she's been making an effort to stay in good shape since celebrating her 30th birthday earlier this year.
"She follows a strict workout regimen which includes hitting the gym five days a week with her personal trainer when she's not traveling. She makes sure to stay hydrated and loves cardio workouts, including cycling and jumping jacks, but also combines a focus on her core muscles with lots of repetitions,"
The source expanded.
Meanwhile, Rihanna's "Savage X Fenty" show has been hailed as a trendsetting experience. The event featured models of every color, shape, and size. Top model sisters, Gigi and Bella Hadid, and pregnant Slick Woods were some of the ladies who lit up the runway with an electrifying performance.
THE BIG IDEA BEHIND "SAVAGE X FENTY"
The all-inclusive "Savage X Fenty" also included underwear of all shapes and sizes, from regular pajamas to seductive garters. Rihanna explained that her pieces were created to make a statement. The Barbadian songstress said:
"I can only hope to encourage confidence and strength by showing lingerie in another light. You don't have to stick to one personality with lingerie; it's fun to play around. You can be cute and playful one week and a black widow next week. …I want women to own their beauty."
Please fill in your e-mail so we can share with you our top stories!