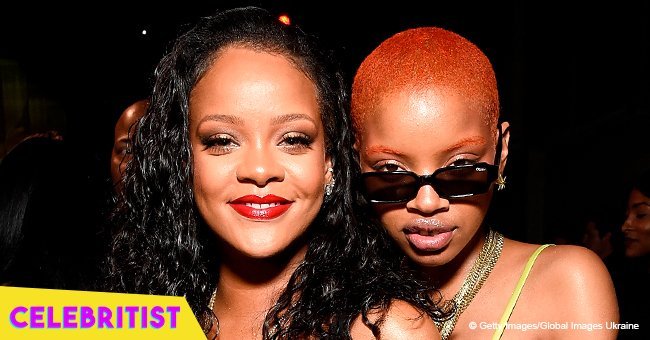 Pregnant model, 22, reportedly goes into labor at Rihanna's 'Savage x Fenty Fashion Show'

As crowds delighted watching goddesses of all shapes and sizes during Rihanna's recent lingerie fashion show, one of her models unexpectedly went into labor.
Rihanna's Savage x Fenty Fashion Show during New York Fashion Week celebrated women of all sizes and that included expectant mothers. However, as the show sizzled, the affair became even more eventful when her heavily pregnant model, Slick Woods went into labor backstage.
According to TMZ, Woods who rocked black pasties, lingerie with cutouts and a thigh-high pantyhose had just walked backstage after her stint at the runway when her baby boy she planned to name Saphir, decided to be born early. The 22-year-old model was expecting to deliver him in four weeks.
Paramedics immediately rushed to the scene and took her to the hospital. And since news of her labor broke, Woods has not made an announcement on her social media regarding the birth of her son she shares with model Adonis Bosso.
Meanwhile, Rihanna's fashion show was a glaring success. Vogue described it as a "Garden of Eden where women rule the world" as she paraded women of all sizes and depicted them as goddesses. Along with Woods, Bella and Gigi Hadid, Joan Smalls, and Paloma Elesser also graced the runway. At the end of the show, Rihanna appeared in a nude, shirred dress while a rendition of "Love Me Tender" played in the background. People went wild as she softly said "I love you!"
Though she owns her lingerie brand, Rihanna is the best model to promote it. She's proven time and again how sexy she is, more so with the launch of Savage x Fenty. Just this month, she stunned in a creative photo where she dons a piece from her collection showcasing her glorious curves. The singer wore a green bikini top with matching opera gloves as she posed on the grass among flowers and delivered a fierce expression. Rihanna used the photo to introduce her new collection which most likely sold out after fans witnessed the artistic image.
Please fill in your e-mail so we can share with you our top stories!