Lively dog bounces through a field in the most hilarious way (video)
"Kangaroo" Megan jumps for joy and the video goes viral.
The Internet is delighted with a video that shows a dog romping happily through a field, leaping for joy. The video was posted on YouTube by DjStrutt on July 11, 2012, but has now gone viral with 463.437 views.
Any dog owner worth his salt knows that dogs go a little bit crazy on a perfect day. They fling themselves whole-heartedly into the enjoyment of each moment, and that is what happened to a lurcher named Megan.
Read more on our Twitter account @amomama_usa.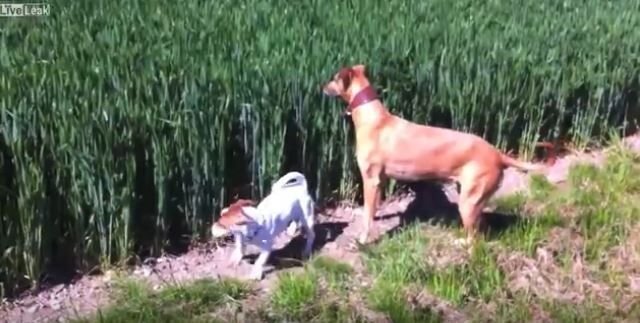 "The sunshine sends my dog a little loopy…"
DjStrutt, Youtube, July 11, 2012.
MEGAN'S DANCE OF JOY
In the video, Megan can be seen sniffing at the edge of a field in the company of her best friend Molly, a frisky Jack Russell Terrier.
Lurchers are usually crossed between sighthounds and terriers, and the cross is meant to increase traits like intelligence, scent, speed and - in Megan's case - energy.
Megan is certainly breeding true because she danced across that field in irrepressible leaps and bounds.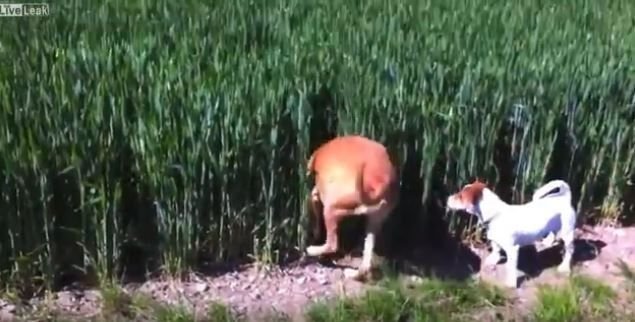 LIVING THE GOOD OUTDOOR LIFE
According to Megan and Molly's owner, the two dogs spend their days running and playing outdoors - a privilege owned only by dogs that live on a farm.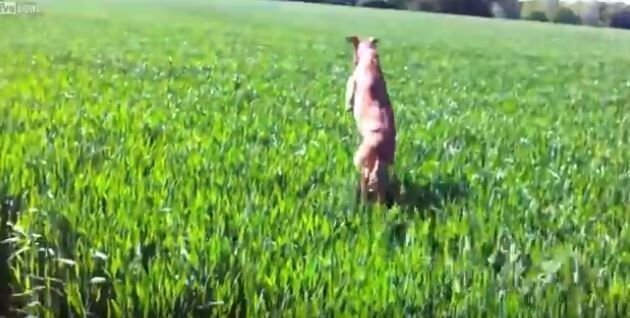 "KANGAROO" MEGAN DOES THE JIVE
Megan and Molly take full advantage of their freedom, and their sheer glee has made for a hilarious video that is still gaining momentum.
In the video, Megan can be seen giving wild kangaroo-like jumps, and even looks a bit like a kangaroo from the back.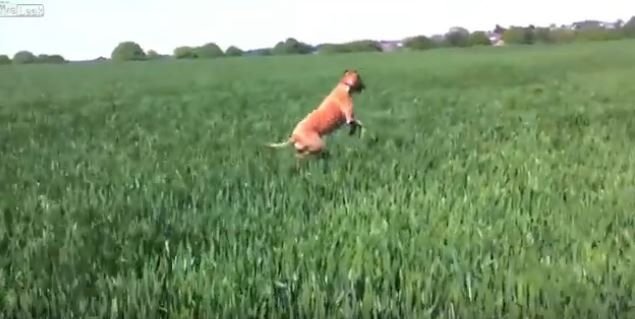 THE BEST SOUNDTRACK EVER
If they were giving out awards for the best and most appropriate soundtrack ever, DjStrutt would win the prize.
Megan's owner picked the theme song from an Australian children's series called "Skippy the Bush Kangaroo " and the choice is hilariously funny.
THOSE CRAZY THINGS DOGS DO WITH POO
Megan's behavior is crazy but cute; less cute is the annoying habit dogs have of rolling in poo.
Why do dogs partake in this disgusting habit with such obvious gusto?  Simon Gadbois is an expert in canid behavior from  Dalhousie University in Halifax, Nova Scotia and he has no explanation for this peculiar behavior.
He points out that dogs have a sense of smell that t is said to be at least a thousand times more sensitive than humans, and yet they chose to smear themselves with other animal's excrement - and the smellier the better.
Gadbois studies wolves, coyotes, and foxes in the wild and he used dogs to help him track his subjects.
Zyla, one of his prized sniffer dogs, had a penchant for rolling in fresh beaver scat, which, according to Gadbois, is the evilest smelling excrement in creation.
The border collie seems to revel in it as if it were French perfume and said Gadbois, the stink lasts for weeks. In all his years of scientific research, he has yet to establish why dogs just love poo.
In a related story, a German shepherd with a passion for hip-hop dances to Flo Rida's hit song "Low" and the video goes viral.
This dog's ears had her nominated for an award!