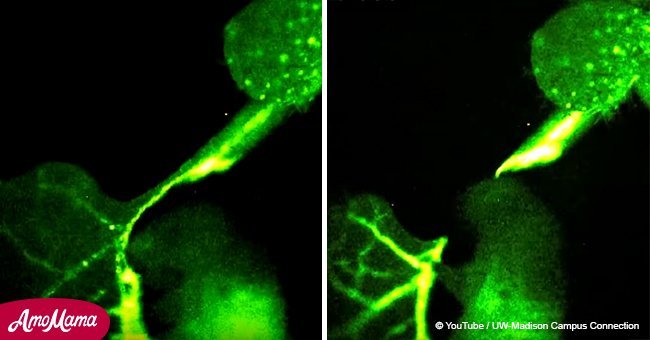 Incredible new footage shows plants light up when under threat

An experiment on how plants assimilate information led to an incredible discovery.
An astonishing new study reveals that plants react to damage in what can only be described as the analog to animal pain.
Whereas animals - and humans - have nervous systems, plants don't, and until now were believed to be passive and unaffected to alterations to their structure.
Plants may not have neurotransmitters, nervous systems or brains but scientists observed the incredible response of a pant under attack by a caterpillar. A video of that response posted on Youtube by the University of Wisconsin-Madison is causing a furor.
"In response to wounding, there's a lot of things that you want to trigger if you're a plant. Somebody's chewing on my leaf. I want all the rest of my leaves now to taste awful."
Professor Simon Gilroy, Forbes.com, September 13, 2018.
PLANTS THAT GLOW IN THE DARK
Scientists were conducting an experiment at the University of Wisconsin-Madison on how plants take in and assimilate information when a happenchance brought an unexpected breakthrough.
To observe how plants assimilate information, scientists had introduced into their subjects a gene from jellyfish that makes them glow green.
THE REACTION IS VISIBLE FOR THE FIRST TIME
The genetically modified plants now produce a protein that fluoresces around calcium. By chance, the scientists were observing a particular plant when it was bitten by a stowaway caterpillar.
The results are a startling light show, as a wave of chemically-transmitted reaction undulated through the plant's vascular system.
A SURPRISING DISCOVERY OF PLANT "ADRENALINE"
The plant's response to the caterpillar's attack was captured in vivid real-time imagery and illustrates the differences and surprising similarities between plants and humans.
The plant's reaction is similar to the release of adrenaline or a stress hormone triggering the vegetable version of "fight or flight."
AN ALTERNATIVE TO A NERVOUS SYSTEM
Gilroy believes that the plant's reaction indicates a function similar to nerve conduction.
But, since plants don't have nerve conductors or a nervous system the transmission taking place is even more incredible.
REVIEWING OUR CONCEPTION OF WHAT PLANTS ARE
Gilroy believes this is only the beginning of the work on redefining plant life as we know it.
The life forms we have always seen as unreactive, are now shown to be extremely sensitive and responsive to pain/damage stimuli.
Other studies have already ascertained that plants transmit information about light intensity and quality from leaf to leaf in a very similar way to our own nervous systems.
In their experiment, the scientists showed that light shining on to one leaf caused the whole plant to respond, and the light-induced chemical reactions in the leaves, continued in the dark.
Scientists believe that this shows that the plant "remembered" the information encoded in light.
In a related story, a plant who produces a toxic sap that burns the skin to defend itself from predators is spreading across the US and causing growing concern.
Please fill in your e-mail so we can share with you our top stories!