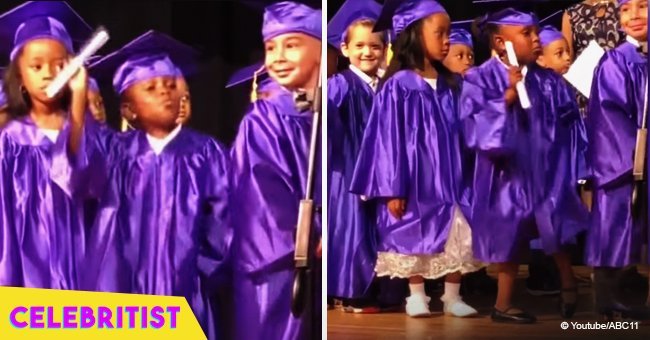 5-year-old steals the show with her dance moves at her Pre-K graduation
An adorable girl from North Carolina stole the show at her pre-k graduation showing off her best moves and sassy attitude at the Christian Prep Academy. Her father was not expecting his little girl to become a viral sensation, but he's proud.
Little Aubrey Toby, a five-year-old from Durham, was already tired of waiting in line to receive her diploma at the pre-k graduation ceremony that took place at the Hayti Heritage Center in her hometown.
Even though graduations tend to be boring and uptight with all the established protocol, Aubrey was so happy about her big day that she just wanted to dance. When she took the stage in the middle of a line with her classmates to get her diploma, she decided to do it with style, making the day an unforgettable one for her, her family, and millions of strangers on the internet.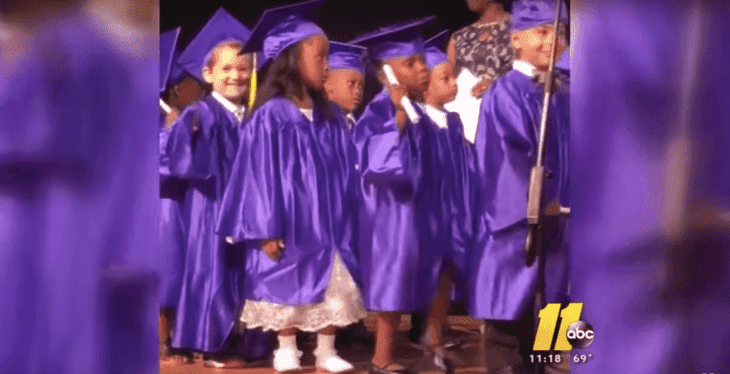 Credit: YouTube/ABC11
Dressed in her blue cap and gown, Aubrey danced all the way to end of the stage, even giving a little twirl to the audience, following the rhythm of Justin Timberlake's "Can't Stop the Feeling." Toby's family cheered from the audience, and her uncle Merle Murrain, shared the video of the hilarious moment on Instagram along with the caption:
"Her future is going to be amazing! Class of 2018. Pre-K Graduation. Aubrey Christina Toby."
The innocent video of an uncle celebrating his niece became a social media viral sensation quickly. The original post now has almost 40k views, but after other viral pages shared it, it has earned over 1 million views.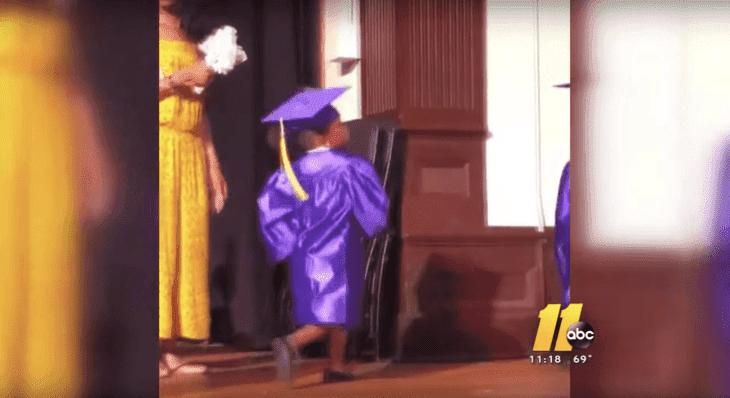 Credit: YouTube/ABC11
Charlyne Thomas, Aubrey's Pre-K teacher, told ABC News that she was as surprised as the rest of the audience by Aubrey spur of the moment dance. However, she also praised the little girl's antics, revealing that it showed just how much the 5-year-old developed in her last year at pre-k.
"She's just developed. Developed being in the classroom, intermingling with her friends, and just learning and developed. She's just sprouted, like a butterfly," she said.
Aubrey's father, Malcolm Toby, was astounded by all the attention his little girl received from the video. He said:
"All of a sudden, she's on the news. And Aubrey runs in - and she's like 'that's me on TV. Am I star?' And I'm like 'Yeah baby, you're a star.' It was crazy. I wasn't prepared for it at all. Like I said, I know my child. She loves the attention; she loves just playing and things like that. But when she started walking off, and the spin happened - I wasn't expecting that at all, I wasn't ready for that. Um... yeah, it was crazy."
Aubrey now started her kindergarten experience at the Southwest Elementary, and she's probably going to keep on showing off her sassy personality and cuteness with her new classmates and teachers.
ANOTHER TALENTED GIRL
While Aubrey stole the show at her graduation, Aaliyah did the same but at her school talent show. The girl showed off not only her best dance moves but also her skills aboard a hoverboard while dancing to the "Little Einsteins" theme song at her school's basketball court.
Although her video became viral, Aaliyah had already reached fame when hip-hop artist Plie shared to his page a video of the girl dancing to his hit song "Rock" in the same bright pink hoverboard.
"If She Ain't Drippin Sauce Ion Know Who Is... Did She Kill It??? #Rock #Plies #AintNoMixtapeBih3 #Rock #CheckCallin #RealHitta #FEMA #PurpleHeart #RanOffOnDaPlugTwice #RitzCarlton," the rapper captioned the video of the girl.
Please fill in your e-mail so we can share with you our top stories!