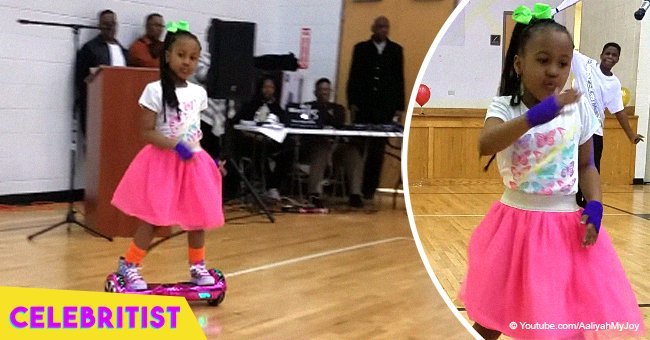 Little girl sets the dance floor on fire with her moves on hoverboard
A talented little girl has become a viral phenomenon after a video of her dancing aboard a hoverboard was shared by her parents on YouTube.
YouTube/AaliyahMyJoy
The girl, Aaliyah, proved that not only is she a talented dancer, but also has incredible balancing skills. In the clip, which seems to have been recorded at a school talent show, Aaliyah is seen wearing a pink tutu, a white t-shirt with multi-colored butterflies printed on it, orange socks and multi-colored shoes.
She added flair to her outfit with a neon green bow adorning her hair and blue gloves, as she spiraled, crouched down and flipped her braids to the rhythm of the "Little Einstein's" theme song. Aaliyah set the dance floor -a basketball court- on fire with the final split she did, and is not the first time that her hoverboard abilities make her earn the attention of social media users.
Earlier this year, the girl was featured on hip-hop artist Plies's Instagram page, after she was recorded dancing to his hit song "Rock" on the same bright pink hoverboard with intermittent lights. This time, the video showed Aaliyah dancing on her living room and dancing a good time while showing her best dance moves to the hot charting song.
The rapper captioned the video of Aaliyah:
"If She Ain't Drippin Sauce Ion Know Who Is... Did She Kill It??? #Rock #Plies #AintNoMixtapeBih3 #Rock #CheckCallin #RealHitta #FEMA #PurpleHeart #RanOffOnDaPlugTwice #RitzCarlton"
His fans immediately flocked the comment section with praises for the girl, with some of them stating that not only she's amazing at dancing but also at dominating her expressions in front of the camera.
One user wrote "She made me smile. This was a cute video," another joked, "Damnn I can't even move that good in my heels without busting on a rock rock rock rock" and a third one said "This is awesome!! Creative and talented. Keep up the good work."
While Aaliyah mesmerized people for her natural skills, and she has her mother's support, there are other girls out there who aren't that lucky.
"IN MY FEELINGS CHALLENGE" GONE WRONG
A few months ago when Drake's song "In My Feelings" became a global sensation thanks to the dancing challenge created on social media.
People from different cities gave the challenge a try, which consisted of getting out of a moving car to walk next to it while dancing to the hit song's beats. A Mexican girl got a lot of attention for her challenge, but not because of her dance skills.
In the hilarious clip, she's seen starting the challenge while her friends record, but in the middle of it, her angered mom interrupts while saying:
"What are you doing? Go to your room to clean it. You can dance in there."
The sudden appearance of the mother made the girl's friends laugh, which prompted the woman to turn against them as well saying "I'm sick of you, too. Go dance somewhere else."
THE ENTIRE SITUATION WAS STAGED
The hilarious clip earned over one million views and comments, but the mom in the video later revealed that the clip was staged. It turns out; the clip was initially posted on the Facebook page "Mamá Mexicana" (Mexican Mom), a humorous page run by the mom in the clip, Iris Martínez.
She left a message on the page thanking people for making her video so popular:
"Thanks for all shares. Our video is now viral, and we have created an official account. If others can, why wouldn't I? This is how I really am with my daughters. We are so glad that we made you laugh and reminded you of your mother or your friend's mothers."
Please fill in your e-mail so we can share with you our top stories!