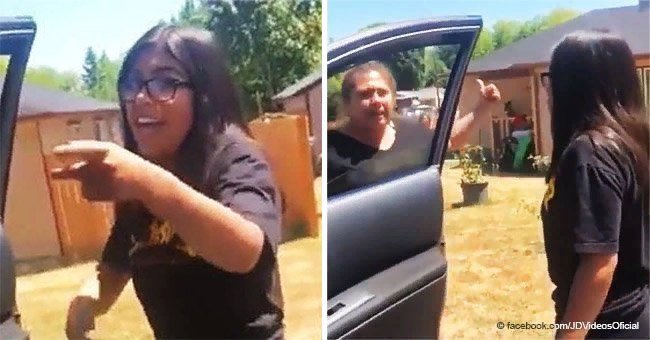 Girl who was trying to follow dangerous dance challenge got life lesson from mom (video)
A Mexican teenage girl who was giving the controversial and risky Kiki Challenge a try ended up shamed by her angry mother in a video that went viral.
The teenager from Mexico joined thousands of people around the world who are performing the dangerous trend consisting of jumping out of a moving car to walk next to it while dancing and singing to the beat of Drake's "In My Feelings."
As Mirror reported, the latest internet challenge caused a controversy. Apart from the serious harm that can result if something went wrong, it violates traffic laws as well.
These concerns seemed to be the last thing in this girl's mother's mind when she amusingly interrupted her daughter's version of the "Kiki Challenge."
The angered mother simply wanted her daughter to stop dancing and help her with chores instead. Read more on our Twitter account @amomama_usa.
"SHAMED" BY HER MOTHER ONLINE
The girl's dance routine and overall performance were going well until the mother appeared in the background. The daughter was unaware until the last second.
"What are you doing? Go to your room to clean it. You can dance in there," the furious woman shouts to the teenager.
The abrupt entrance of the woman makes the cameraman roar with laughter, turning the mother's anger against her daughter's friends. "I'm sick of you, too. Go dance somewhere else," she says.
REACTIONS TO THE VIRAL VIDEO
Since the footage was posted to Facebook a month ago, it has been shared 26,000 times and 'liked' 17,000 times, apart from gathering almost 2,000 comments.
Some users praised the mother for trying to impart some sense to her daughter and maybe teach a lesson to the thousands who are following the "In my feelings" craze.
A Facebook user said: "Well done. I hope that this way they stop doing dumb things everytime [sic] they see something stupid online!"
Others took sides with the girl, like Maria Irma Hernandez, who wrote: 'Keep dancing, ignore that grumpy old lady. Don't listen to her, all she wanted was to take part in the video."
IT WAS ACTUALLY STAGED
Sadly for those who believed that the events depicted in the viral clip happened naturally, it came to light that the mother didn't sabotage her daughter's dance, but was always part of it.
Apart from being shared in a viral content Facebook page, the video was also posted to "Mamá Mexicana" (Mexican Mom), a humorous page run by the mother in the clip, Iris Martínez.
Martínez lives in the United States and has publicly thanked internet users for the video's popularity as her Facebook page has been receiving more traffic since their video went viral.
Martínez wrote:
"Thanks for all shares. Our video is now viral and we have created an official account. If others can, why wouldn't I? This is how I really am with my daughters. We are so glad that we made you laugh and reminded you of your mother or your friend's mothers."
In one of the page's posts, we can see Martinez dressed up and wearing make up next to herself looking much like she does in the video, and she wrote that the latter was how she looks in her "daily life in the US."
HOW DID THE "KIKI CHALLENGE" CAME TO BE?
The "Kiki Challenge" was started by the comedian known as Shiggy, who performed the dance next to a car while his friend recorded it. He posted the video on his Instagram where it went viral.
The video didn't feature any moving vehicles, but somehow it evolved to that as people started to make their own versions of it.
According to BBC, the challenge caught the attention of authorities from many countries, including India, where people have been arrested after being caught in the act.
After an Indian Youtuber called Funcho Entertainment uploaded a video doing the challenge using the train instead of a car, gathering two million views, an Indian magistrate decided to give him an exemplary punishment.
To raise awareness about the dangers of the challenge, the YouTuber and his collaborators were forced to clean a railway station for three days.
Please fill in your e-mail so we can share with you our top stories!