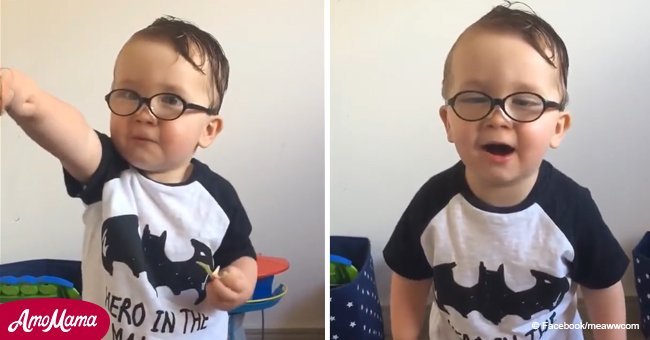 Sweet little boy shows off his favorite animals and superheroes by imitating them
Little boy Noel takes the internet by storm by adorably imitating the sounds of his favorite animals and mimicking some of his favorite superheroes.
It is well-known fact that children tend to imitate everything and everyone around them, including the things they see, listen, and enjoy tremendously.
For Noel, watching animals is one of the favorite things. He has observed them so closely that he can almost recall what each of those animals sound like and how they behave.
In a video uploaded to Facebook by Meaww, the little boy is seen imitating the animals in an adorable way while describing how they look and how they talk.
Follow us on Twitter to learn more.
The video taken by the child's mother is a brief one but it is enough to woo an audience with the immense cuteness of this little child.
At the beginning of the video, the mother asks Noel about his favorite animal. Noel immediately replies that it is an elephant.
The mother then further asks him as to what does an elephant say. Noel does not hesitate and immediately makes a sound similar to that of an elephant – or as close as a child of his age can reach.
Next, his mother asks him about where the trunks of an elephant are. Noel immediately mimics a trunk with his hand placing it against his nose.
The mother continues to inquire the child about some of his other favorite animals. Noel replies that he also loves a lion, a wolf, and a gorilla. One after the other, he shows his mother how each of those animals makes a noise.
Finally, Noel moves on to another subject that also closely interests him, which is superheroes. The little boy opened up about some of his favorite superheroes which include Superman, Batman, Incredible Hulk, and Captain America.
The adorable video has been welcomed by the social media wholeheartedly. It has gathered over 214,000 views so far and collected more than 1,900 reactions. It has been shared more than 496 times making it go viral.
Little children are often full of surprises and adorable moments, which almost every parent wants to capture in a beautiful video.
In a similar incident, a six-month-old baby was recorded giving cutest of reaction to their parents singing a capella in a car. The heartwarming moment also went viral on social media.
Please fill in your e-mail so we can share with you our top stories!