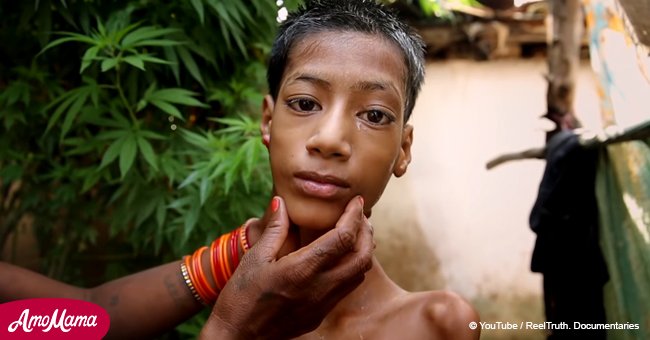 13-year-old boy shocks the Internet with unusual disease that made him see the world upside down

Mahendra Ahirwar astounded the Internet with a rare disease that caused his head to hang at a 180-degree angle. The 13-year-old's condition forced him to see the world upside down.
Mahendra, from Madhya Pradesh, India, suffered from a rare condition called congenital myopathy. The boy's head would hang to one side because the muscles in his neck were very weak.
According to ReelTruth Documentaries, after consulting several doctors, Mahendra's family meet a trained spinal surgeon, Dr. Rajagopalan Krishnan.
The surgeon planned a life-changing surgery to help the boy hold his head upright for the very first time. Follow us on our Twitter account, @amomama_usa, to learn more.
The surgery was completed in February 2016 at Apollo Hospital in Chennai, and Mahendra could finally see the world the right way up.
However, as reported by Daily Mail, Mahendra passed away only eight months after the operation. Dr. Krishnan was left shocked by his sudden death.
"I can only conjecture that a massive cardiac or pulmonary event might have occurred and often there are no premonitory symptoms in such cases. I think myopathy and poor chest muscles caught up with him in the end," he said.
"He was among the bravest children I've seen since my return to India and I see the most terrible and neglected deformities."
Dr. Krishnan added, "For me, the joy and smile on his face when his head stopped sagging was one of the defining moments in my decision to operate on children with neglected and awful spinal disorders. I am sure his absence will cause anguish to everyone who was involved in his care, his smile was brighter than the sun after his neck was straightened."
Mahendra's parents, Mukesh and Sumitra Ahirwar, opened up about their devastation.
"I had so many plans and dreams for him. I wanted him to grow big. He dreamt of opening a general store and we were going to help him. His dreams are shattered now," Sumitra said. "He'd been playing in the morning, had breakfast, took a shower and took a ride on his wheelchair inside the house. After having lunch, he asked to watch TV. I switched on his cartoon, and he coughed twice."
"He asked me to rub his chest and then tried a third cough but died. I started crying loudly and called his name. I ran outside, I kept shouting 'my son isn't moving,' and a [neighbor] phoned the doctor. The doctor came within 15 minutes and declared he was dead. I fell to the floor and held him tightly. I didn't want to let him go," the mother added.
Surrounded by his friends and family, Mahendra was cremated in a traditional Hindu ceremony.
Sumitra said that Mahendra's things are scattered everywhere. "Our house is filled with his belongings. Nobody thought this day would come. He was fine. He even said 'I'm absolutely fine Mum.' His voice echoes in my ear. The way he used to call me. I am devastated. I feel everything is over," she said.
In 2015, the boy's extraordinary condition hit the headlines. His story moved the hearts of many people around the world.
A woman from Liverpool, Julie Jones, went on to raise fund for Mahendra to have life-changing surgery.
In May 2016, a documentary, "The Boy Who Sees Upside Down," was aired on Channel 5's Extraordinary People series. The documentary followed Mahendra and his family as they travel from their village to India's capital city for the risky surgery.
Please fill in your e-mail so we can share with you our top stories!