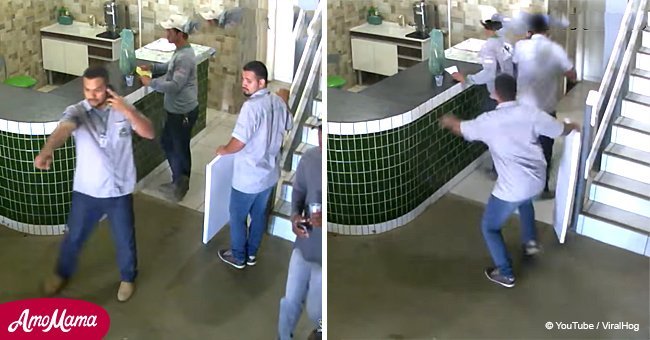 Workers cower in terror after pit bull wanders into a building

A friendly pitbull caused a ruckus earlier this year when he ran into a store and frightened employees.
A video of the playful pooch was shared on YouTube back in July and had been viewed more than 800,000 times in two months.
The short clip shows five employees at their store in Rodnia, Brazil, going about their daily tasks. Suddenly, one of the men dashes for the exit.
A second man then walks to the front of the office, pointing to something off-screen before also making haste to get out of harm's way.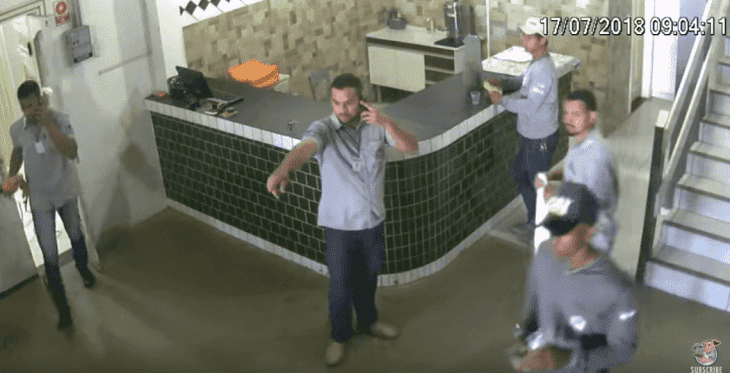 Source: YouTube/Viral Hog
Read more on our Twitter account, @amomama_usa. The adorable footage can be seen below.
In the caption, one of the employees explained:
"The pit bull escaped from a neighbor's house and wanted to play with our team members who weren't having it."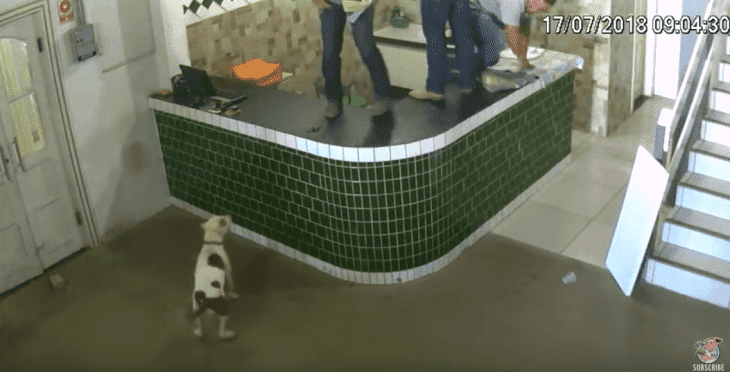 Source: YouTube/Viral Hog
The other three men followed, with one even jumping over the counter in an attempt to get away from the fearsome beast.
A few seconds later the dog comes running in, his tail wagging and eager to play.
Dismayed that no one wants to play with him, he runs around to the back of the counter, forcing the men hiding there to also jump onto the counter.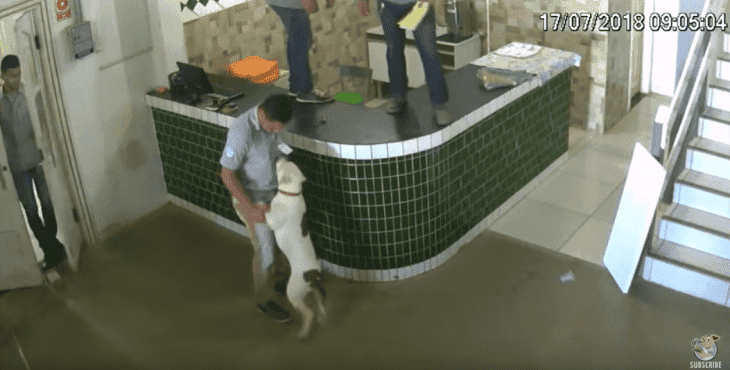 Source: YouTube/Viral Hog
Throughout it all, the dog's tail was wagging and it appears as though he just wanted to play, but none of the employees were having any of it.
Pit bulls have a bad reputation for being aggressive and dangerous dogs, but in most cases, it comes down to the people breeding them.
Back in August, a pit bull was abandoned at a dog shelter and took the internet by storm for displaying "humanlike emotions."
The pit bull sat in her cage, slumped forward, and crying. The dog immediately lightened up when volunteers began to play with her.
The dog, named Rosie, has since been adopted and have blossomed under the care of her loving owners.
In most cases, pit bulls are raised to be aggressive dogs, and they are responsible for more than 50 percent dog attacks and deaths since the early eighties.
Marcy Setter from the Pit Bull Rescue Center told Time back in 2014 that pit bulls aren't inherently dangerous and that any breed of dog could be vicious. She said:
"There is not any breed of dog that is inherently more dangerous. That's simply not true."
Please fill in your e-mail so we can share with you our top stories!