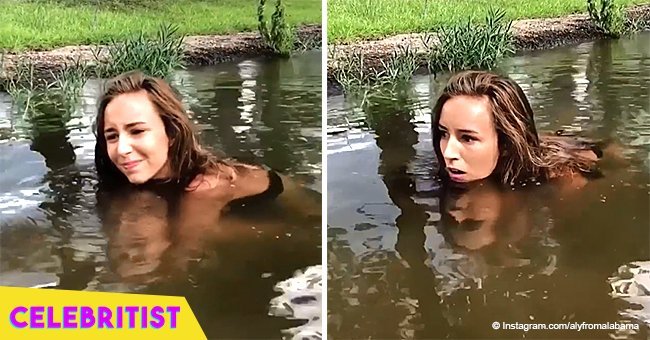 Girl squats in muddy water, puts her hands to the bottom and pulls out a huge creature
Alyssa Schreiber is a young woman from Alabama who uploads videos of herself hand-fishing and hunting animals. One of them showed her pulling a massive blue catfish out of the water.
The clip started portraying her with her entire body into the muddy water. All that was seen was her face, which expressions helped to explain what was happening in the water.
In the beginning, Schreiber was seen struggling with the fish, and it was clear that she was in pain for the bites. The person recording asked if she got a blue catfish, to what the lady said that it was definitely one of those.
A few seconds after that, Schreiber seemed to be very surprised and said that it was not a blue catfish.
Little by little, she started standing out while pulling the fish out of the muddy water and, much to her surprise, it was a blue catfish. However, since it was that big, she didn't think that was it.
ANOTHER BIG FISH
That was not the only big blue catfish Schreiber has got as a different video portrayed her next to a wooden structure into muddy water struggling with a fish. As soon as she felt the bite, she told the camera that it was a big one.
Later, Schreiber pointed out that her whole hand was in the animal's stomach, meaning that the fish was huge. When she slowly pulled it out of the water, she realized that it was bigger than she expected.
A FIGHTER
The catfish started fighting, but Schreiber ultimately managed to control it. She revealed that she didn't think it was a "bluecat" because its mouth was too big, adding that it was the first time that she got her hand swallowed.
A DIFFERENT PREY
Brandon Barfield and Brandon Cutchins from Florida struggled for more than 30 minutes to pull out of the water and hunt a massive 12-foot, 750-pound alligator.
The pair had got two smaller ones before and decided to give it a try to another spot before calling it a day. Once they found that animal, they felt more scared than happy.
Finally, they pointed out that they would eat the meat, create some things with the hide, and mount the head.
Please fill in your e-mail so we can share with you our top stories!