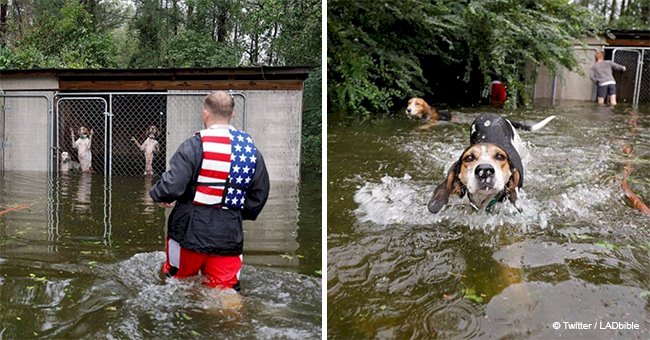 Volunteer rescues six dogs abandoned by owner in an outdoor cage in Leland, NC

A man saved six dogs locked in a cage from drowning in the rising flood waters.
Hurricane Florence wrought havoc in North Carolina, and thousands fled in panic as it approached.
Many people packed the minimum and ran, leaving all they owned behind - and one dog owner forgot his pets locked in an outdoor page.
The flood waters were rising and the dogs were in danger of drowning when rescue-worker Ryan Nichols found them.
Nichols waded through knee-deep water to rescue the dogs, and the video was posted on Twitter by Ladbible and it has gone viral garnering 1.57million views.
HURRICANE FLORENCE CAUSES THOUSANDS TO FLEE
"We got them out, but by the time we left, the water was so high that they would have drowned. BRING YOUR PETS WITH YOU! #HurricaneFlorence."
Marcus DiPaola, Twitter, September 17, 2018.
As Florence approached the coast of North Carolina, authorities advised residents to leave the threatened area and the frightened people fled leaving their homes in the path of the hurricane.
The owners of a property in Leland, North Carolina left their dogs behind but neglected to free them from the cage they were locked in.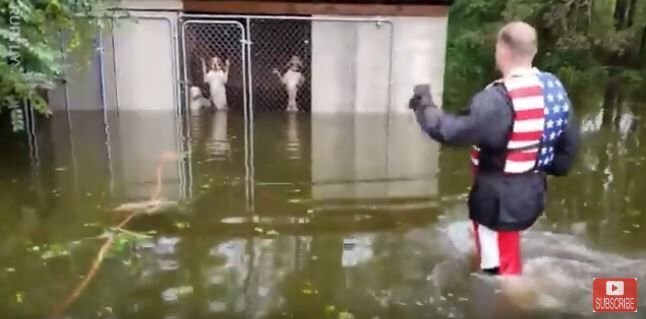 Source: Screenshots/marcusdipaola
When Nichols saw the animals, they were standing on their hind legs, trying to avoid the rising water.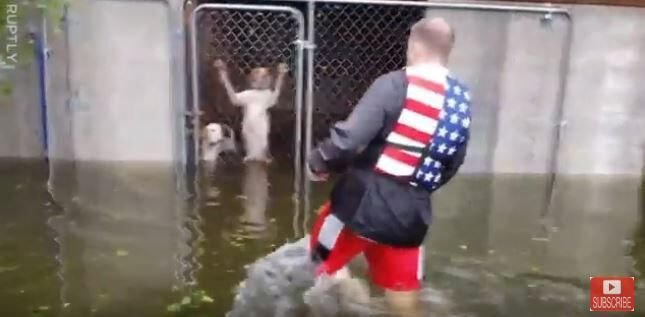 Source: Screenshots/marcusdipaola
Nichols, a Longview, Texas resident, opened the cage and freed the desperate animals who could be heard howling and whimpering as they swam away.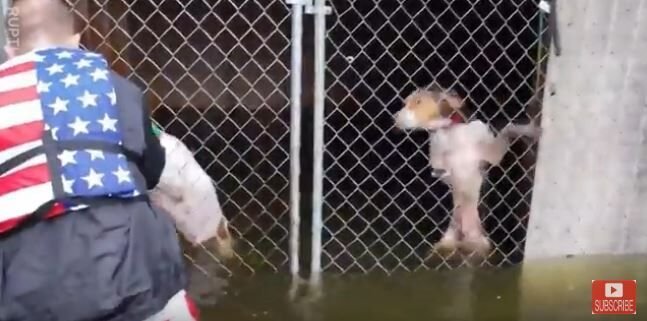 Source: Screenshots/marcusdipaola
The dogs swam to safety and sought refuge in a nearby wooded area, followed by the rescue volunteers.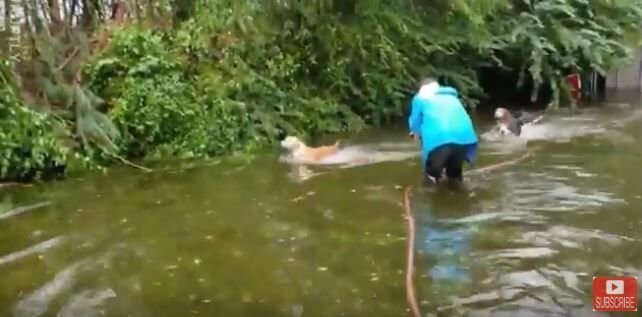 Source: Screenshots/marcusdipaola
Hurricane Florence left North Carolina with flood waters reaching four feet on September 16, 2018m and it has yet to peak.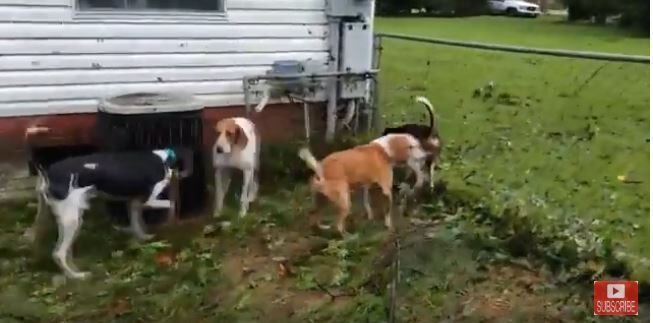 Source: Screenshots/marcusdipaola
The Yadkin River in Jonesville is still flooding and is expected to crest at 26.6 feet, which will bring ongoing havoc to the surrounding area.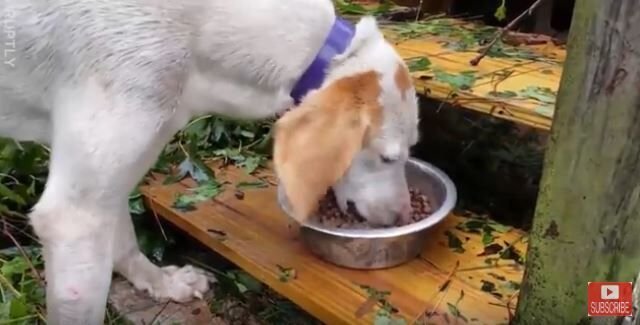 Source: Screenshots/marcusdipaola
ANOTHER RESCUER SAVED 17 DOGS
Another brave rescuer, Michael Chour, negotiated with the owner of a dog slaughterhouse in Cambodia and was able to save 17 dogs.
One of the dogs whom he rescued was called Sweety. The little dog was cringing in the farthest corner of a cage. She'd witnessed the other dogs getting pulled out by their necks and killed for their meat, and was expecting her turn at any time.
Michael decided to adopt Sweety that day, and the two formed a strong emotional bond. Sweety was overcome with gratitude and couldn't stop hugging her savior, Michael.
In a related story, a North woman sang a heartbreaking song to lift everyone's spirits while waiting out the fury of Hurricane Florence.
Please fill in your e-mail so we can share with you our top stories!