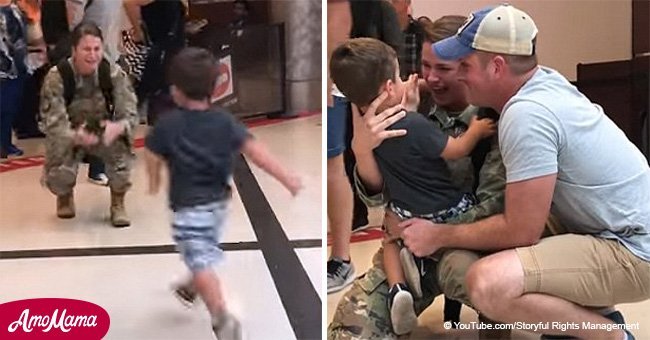 Emotional moment military mom reunites with toddler after being deployed for 6 months

Returning military mother sees her two-year-old again after a long deployment in the Middle East.
Being a soldier and a mother are hard to reconcile, and no-one knows it better than Air Force Staff Sergeant Chelsey Speicher.
Speicher had been deployed in Jordan for six months, and that was how long since she had last hugged her tiny two-year-old son Bennet.
The mother and son reunion was captured on camera and posted on Youtube by Storyful Rights Management.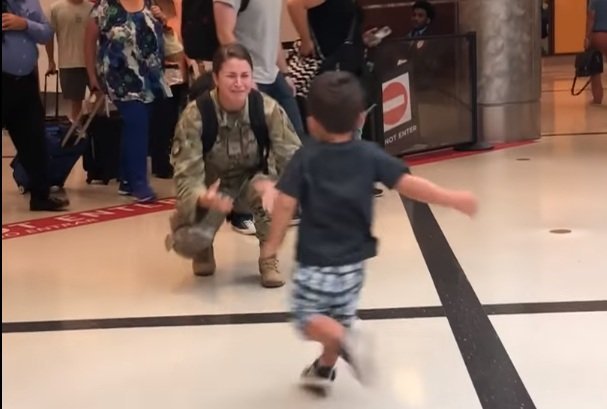 Source: Youtube/ Storyful Rights Management
MOM IN TEARS AS SHE SEES HER SON
In the heartwarming video, Speicher can be seen dropping to her knees at the Georgia airport as she saw her son approaching.
The tot catches sight of her and cries out:"There's mom." and Speicher tearfully answers "Hi baby!"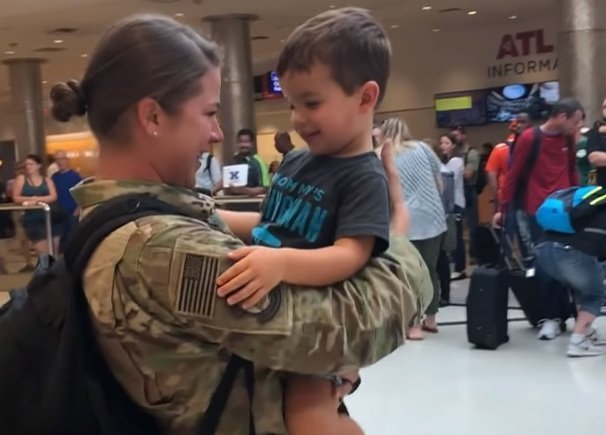 Source: Youtube/ Storyful Rights Management
A FAMILY REUNION THAT HAS THE INTERNET IN TEARS
As mother and son embraced tenderly, Speicher's husband joined the group hug. Then the rest of the family joined in the love-fest.
TECHNOLOGY KEPT MOM AND TOT IN TOUCH
Though it had been 6 months since their last hug, Speicher and her son had video chatted regularly.
Speicher revealed that she would be savoring every precious second with her baby boy and her husband.
NAVY MOM SURPRISED HER 15-YEAR-OLD SON
Diem Carpenter, a Navy Gunner, hadn't seen her son Gabriel for nearly 10 months. She had been deployed overseas for the 6th time in her 17 year career, so her absence was something her son was used to.
Carpenter arrived on September 14, 2018, and she decided to surprise him. Gabriel is a member of the Ankeny Centennial's sophomore football team and he was astounded to his mother jog onto the field.
Gabriel ran to hug his mom while his teammates cheered. Carpenter has promised she will be attending all of his future games as she doesn't expect to be deployed for the next three years.
In a related story, a military dad meets his tiny two-year-old daughter again after being deployed for 175 days.
Please fill in your e-mail so we can share with you our top stories!