Mom didn't know if 2-year-old baby remember deployed dad, but their reunion goes viral
Amanda Taylor was taking her two daughters to be finally reunited with their father, Sgt. Brenden Taylor, after he was returning from his 175-day-long deployment and was tensed if her two-year-old would remember her father or not. 
Amanda shared a video on her YouTube channel which captured the beautiful reunion between her daughters and her husband on August 4, 2018, after he was back home from his deployment. 
The couple has two daughters and the eldest, who is two and a half years old, was born while Brenden was deployed in 2015. Their second daughter was born in May 2017. Nine months after her birth, Brenden went back to serve the country in February 2018, Inspire More reported. 
Read more on our Twitter account @amomama_usa.
At the beginning of the video, the mother and daughters are seen waiting for the bus carrying their hero to arrive. The video shows shots of the girls and Amanda. 
When the bus finally arrives and stops, the soldiers get off one by one and meet their respective families. 
Even though Amanda was not sure that her eldest daughter would recognize her father, her fears were put to rest when the little girl started shouting "Daddy, get off the bus," as soon she saw the bus.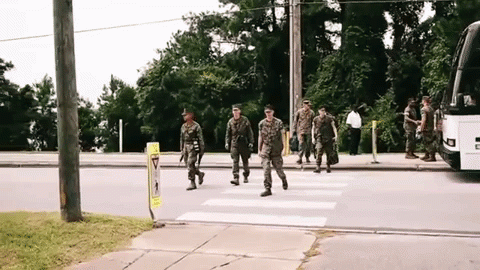 Once the toddler saw her father get off the bus, she let go of her mother's hand and ran straight into his arms. 
Their reunion was heart-warming, to say the least, and was captured beautifully by a professional photographer, Maddie Shortt, whom Amanda had hired to make the moment even more special.
Brenden was more than happy to meet his daughter, who was all smiles when she hugged her father.   He then moved on to hug and kiss his wife, Amanda, and their one-year-old daughter. 
In her talk with Inspire More, Amanda had revealed that she was very anxious at the time when Brenden had to leave for his deployment on February 2018 because she had two little girls to care for all alone.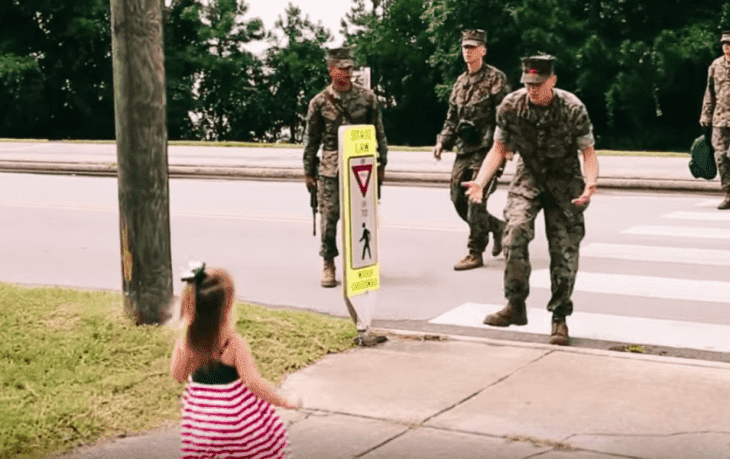 She was nervous about her daughters' reaction to their father leaving and thought if they would be unhappy with him or would forget him. 
But Amanda did not have to worry about any such thing because her daughter did not just remember her father, but was so glad to see him, too.
Amanda spoke about the day of the reunion, "I don't think I've ever witnessed a smile from my husband like I did that day when he finally got his little girls in his arms again," and added that "Deployments end; love doesn't." 
It was another family reunion when Chief Petty Officer Danny Melton, who had missed several of his son's important moments in high school because he was deployed in Italy for the last three years, gave him a surprise that he would never forget.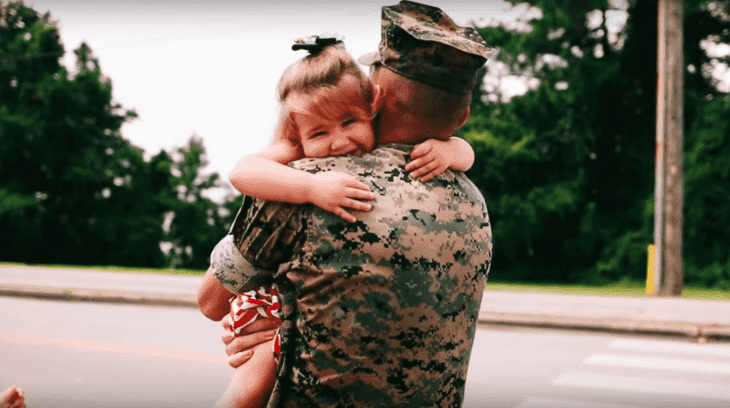 High school football player Jayce had no idea that he would get to meet his father during his final home game, one of the most important nights of his life. 
Before walking out on the field, Officer Melton told the cameras that his son still thought that he was overseas in Italy. 
Jayce was asked by the announcer to look at the 50-yard-line, and when he did, he was shocked to see his father standing there. 
It was an emotional moment for Lieutenant Michael Lemmons when he met his baby boy for the first time. He was deployed when his wife had been pregnant for a month.
The heart-warming moment was captured on camera and shared on YouTube on January 4, 2014, and it said that apart from Lemmons, there were 27 other Navy soldiers aboard the USS John C. Stennis, who were about to meet their babies for the first time. 
Lemmons' wife, Holly was holding their baby and waiting for him at the Naval Station in Bremerton, Washington, along with their two older children. 
When Lemmons finally came to meet his family, he held his baby and thanked his wife for giving him such a beautiful gift.