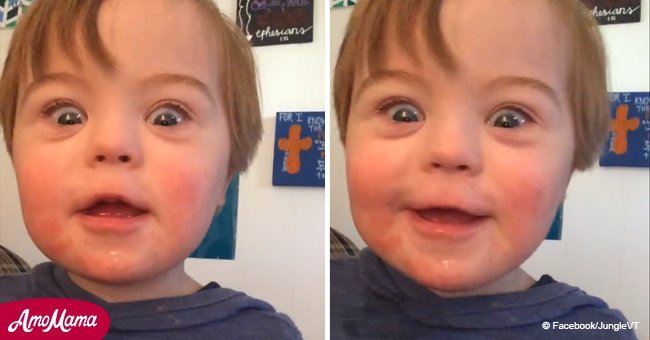 Cute toddler with Down syndrome recites his ABCs (video)

John David melts hearts all over the Internet with his ABC.
A little boy with Downs Syndrome called John David has been inspiring people all over the world with his sweetness and his joy.
John David lives with his parents in Helena, Alabama, and two years ago, when he was just two and a half his family went on a trip to Jacksonville.
Along for the ride went his beloved grandmother Pam Sapp, and she captured an incredible event on camera and it was posted on Facebook, and on Youtube by DailyPicksandFlicks where it garnered over 600,000 views.
MINDING HIS ABCs AND HIS Ps AND Qs
"Best ABC's I ever heard!"
Pam Sapp, Facebook, February 2016.
In the video, Pam is teaching John David his ABC, and the little boy is happily repeating every letter of the alphabet after her.
John David is rocking his ABCs and lisps out the letters in the most adorable way - especially when he gets to F.
SOME LETTERS ARE A BIT OF A CHALLENGE
When John David gets to the all-important R, S, and T, he does hesitate, but with Pam's encouragement he soldiers on and nails the hard to pronounce consonants.
W IS FOR WONDERFUL
A little later on, John David comes face to face with the hardest letter of them all: the dreaded W.
He tries to pronounce it several times, and his eyes get wider and wider until he finally masters the letter W.
AND THEN HE NAILS X, Y, and Z
With Pam patiently helping him, John David finally reaches the end of his task: he pronounces his X, Y and Z like a pro, and then starts clapping with delight at his achievement.
This little boy has inspired and motivated hundreds of thousands of people to take up their challenges, and shown that Downs Syndrom tots are just as happy and eager to learn as every other child.
LIVING A HAPPY LIFE WITH DOWNS
Down syndrome is a genetic condition that occurs in one out of 691 births, which adds up to around 6,000 births per year in the U.S.
Downs Syndrome denotes a genetic defect in which the bearer carries an extra chromosome 21.
Apart from an intellectual challenge, Down syndrome individuals also have health issues which may follow them throughout their lives, but recent medical advances promise to correct most of these problems.
Children with Down syndrome now have richer and more autonomous lives due to access to therapeutic and educational supports through their lives.
The American Journal of Medical Genetics published an interesting sociological study focusing on the impact of Down syndrome on families
The findings were surprising. 79 percent of parents of Downs children reported that their outlook on life was more positive, while 94 percent of siblings reported feeling proud of their sibling with Down syndrome; and 99 percent of people with Down syndrome considered themselves happy
In a related story, a 32-year-old woman gave birth to fraternal twins, one of which has Downs syndrome.
Please fill in your e-mail so we can share with you our top stories!