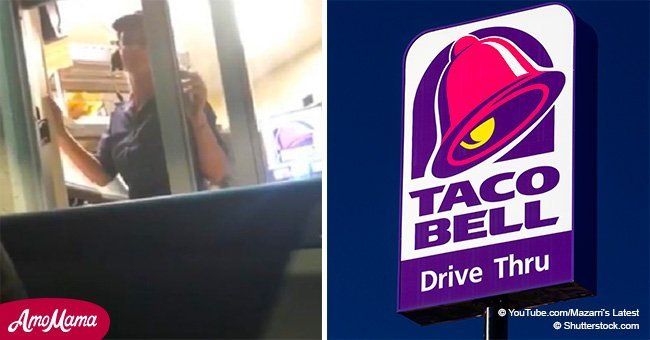 Spanish-speaking Taco Bell worker fired after refusing to serve English-speaking customer
A Taco Bell employee refused to serve an English speaking African-American woman.
All that Alexandria Montgomery wanted was a 2 Chalupas Supreme Combo #6 from Taco Bell. She drove to a Hialeah, Florida takeaway window and told the teller what she wanted.
Hialeah, Florida, is a city with a high percentage of Spanish speakers, and when Montgomery placed her order, the teller told her she didn't speak English.
Montgomery filmed the incident as the woman refused to serve her, and take her order.
"She doesn't want to help me because she don't speak English. But you know the menu. You work here, so you would know what I'm talking about if I say I want number six on the menu."
Alexandria Montegomery, NBC MIami, September 14, 2018.
Montgomery, who is African-American, characterized the incident as "racist." She believed the woman, who called herself "Luisa", understood what she was saying but chose not to serve her.
"Luisa" told Montgomery in Spanish that none of the staff members spoke English and suggested she go to another Taco Bell.
Montgomery was to discover later on that "Luisa" was a false name.
.
MONTGOMERY CONTACTED TACO BELL FOR REDRESS
'Luisa' threatened to call the police if she continued to try and order her meal. During the incident, two different Taco Bell employees approached the window but did nothing to help Montgomery.
Montgomery contacted the Taco Bell manager by phone, and the man apologized and thanked her for informing him of the occurrence.
TACO BELL RESPONDED WITH A STATEMENT
The takeaway chain reacted by firing "Luisa" and emitting a statement.
"This does not meet our expectations of the customer experience. We have worked quickly to resolve with the client to ensure that this does not happen again."
Taco Bell gave Montgomery a $100 gift card as compensation for the incident.
VIDEO GOES VIRAL OVER DISCRIMINATION
After Montgomery posted the video of the incident on September 14, 2018, it garnered over 400,000 views and thousands of sympathetic comments, with a lot of backlash aimed at Taco Bell.
FAST-FOOD CHAIN FACING LAWSUITS OVER RACISM
Another fast food chain is now facing lawsuits over racism. Waffle House a restaurant chain that spans 25 states, has been the focus of four racial incidents in the past 12 days.
The incidents were recorded on video and show shocking behavior inside the restaurants,
In one incident, a video show a police officer is seen choking and slamming a young black man who was at a Waffle House after taking his 16 year-old-sister to her high school prom onto the ground.
Another horrifying video shows three white police officers throwing a black woman onto the floor, threatening to break her arm, and expose her breasts.
Beatrice A. King, daughter of Martin Luther King, called for a boycott of Waffle House until the chain takes racial discrimination more seriously
In a related story, McDonald's, the world's biggest fast-food chain throws out a hungry homeless man after a customer offered him a meal.
Please fill in your e-mail so we can share with you our top stories!