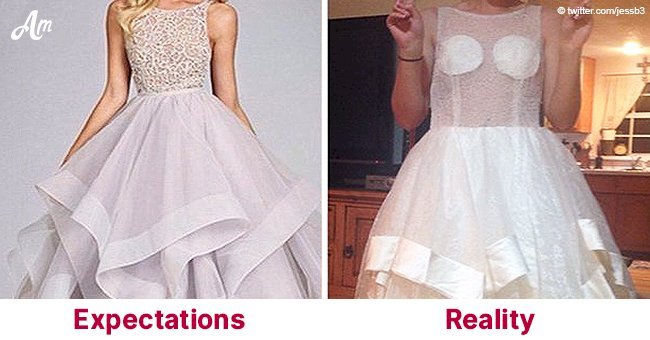 10 hilarious online-bought prom dress fails
There isn't a woman alive who hasn't shopped online for something. You see something amazing like jewelry, shoes, or a new dishwasher. You pull out your credit card and the thing is delivered in 3 - 5 days, or 3 - 5 weeks, depending on where it's coming from.
There's a little disclaimer that tells you that colors may be different to what you see on your screen because of lighting or some other technical stuff. You don't mind a little color difference, but what you get isn't always what you see. Buying a prom dress should never be done online.
Bored Panda compiled a list of online-bought prom dresses that went hilariously wrong, and here it is:
10. THERE APPEARS TO BE A "SLIGHT COLOR DIFFERENCE"
Made from a considerably cheaper material, the basic style is the same but this dress would require some serious altering to get that same fit.
9. THE ONLY SIMILARITIES THESE DRESSES SHARE IS THE COLOR
It's made out of green lace, and that's where the similarity ends. The online version is a stunning off the shoulder, form-fitting dress and the delivered one is clearly the modesty version. She might have a valid point.
8. SHOULDER PADS TO COVER YOUR BREASTS, ANYONE?
While the bottom half looks fairly similar to the online picture in that it is also white, they clearly ran out of that stunning lace and improvised with sheer curtain material and shoulder pads.
7. POLKA DOTS ARE ALL THE RAGE
It's pretty if you're going as a Disney princess, but where is the chic and glamor she ordered?
6. IT COULD WORK WITH A LITTLE TAILORING
No. No, it could not. If we're being completely honest, they sent the wrong dress. There's no comparing the two so why even try.
5. SMILE, EVEN IF YOUR HEART IS DYING
She's trying to make the best of it and good for her. Maybe it's not the dress you wanted but the dress you needed?
4. CHEER UP, IT COULD BE WORSE
She's either swallowing back tears or is trying not to burst out laughing. This dress fits so poorly, she's wearing the breast pads as ear muffs.
3. SHOULDER PADS ARE MAKING A COME BACK
The dress looks very similar to the online version, but when did shoulder pads start trending again? And why are they covering her breasts?
If she removes those ridiculous circles and wears a nude bra or corset underneath, it may just do the trick.
2. FROM MERMAID TO ANEMONE
This stylish eye-popping red dress would be a perfect addition to anyone's wardrobe. Too bad the young lady that ordered it didn't actually receive it. She got a red cotton house-coat with three layers of red net curtains instead.
1. STRAIGHT UP RIPPED OFF
No amount of last-minute tailoring is going to turn this cheap nylon knock-off with its different-sized breast pads into that stunning Hayley Paige creation on the left.
Which dress was your favorite fail? Vote in the comments.
Please fill in your e-mail so we can share with you our top stories!