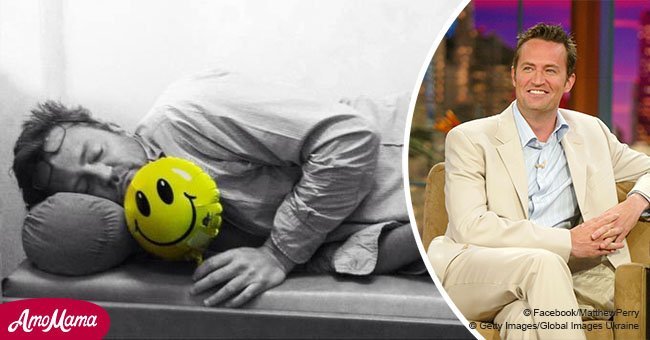 What you probably don't know about 'Friends' star Matthew Perry

Matthew Perry, who played "Chandler Bing" on the famous sitcom "Friends," shocked fans when he revealed that he has been in a hospital bed for the past three months.
The 49-year-old disappeared from Twitter for all of six months before finally tweeting on September 14: "Three months in a hospital bed. Check."
It was only last month that Perry's spokesperson divulged information about the actor. He apparently underwent surgery for a gastrointestinal perforation, referring to a hole in an unknown part of the gastrointestinal tract.
Follow us on Twitter for more @amomama_usa.
The extent of his illness and the necessary recovery period is still unknown, but fans reacted with an outpour of support.
Meanwhile, here are a few things that you may not know about the beloved star.
LIFE GROWING UP AND HOBBIES
Perry was raised by his mother in Ottawa, Ontario. There, he was passionate about tennis, becoming a top-ranked junior player.
He went to The Buckley School in Sherman Oaks where he got a part in the play "Our Town" as "George Gibbs." He was also a junior in "The Sound of Music."
During his senior year, Perry was the preferred choice of director Tim Hillman for a production of "The Elephant Man." It also featured Vanessa Smith and Lisa Capps.
BOTH HIS PARENTS HAVE BEEN IN THE SPOTLIGHT
Perry's parents divorced before he turned one. His father, John Bennett Perry, was previously an actor and a model.
Perry's mother, Suzanne Marie Morrison used to work as a press secretary to Pierre Trudeau, the Canadian Prime Minister.
She is now a journalist in Canada and is married to Keith Morrison, who is also a journalist.
HOW HE ARRIVED AT F.R.I.E.N.D.S
Perry moved to Los Angeles solely to pursue acting. After a stint in some mid-1980s television roles, Perry got a regular starring role in the 1990 CBS sitcom "Sydney."
He later landed another role on ABC's "Home Free" in 1993. Soon after, Perry was cast in a pilot for "LAX 2194." But the show's launch dragged on.
The budding actor decided to audition for another pilot, "Six of One," as security. However, because of his expected role with "LAX 2194," Perry was not immediately considered for the audition.
Eventually, he was able to get a reading. He was successfully cast in the show which would later be renamed to "Friends."
DIRECTOR AND PRODUCER
Perry worked as a director for the first time in the 4th season of "Scrubs." In the same show, he guest starred as an operator of a traffic control team.
2006 saw Perry working on "Numb," a movie about depersonalization disorder. The film experienced several setbacks before its release to DVD in 2008.
SPARSE DATING HISTORY
Perry and actress Julia Roberts dated between 1995 and 1996. He later dated Lauren Graham in 2003, and from 2006 to 2012 the actor was involved with Lizzy Caplan.
TUMULTUOUS HISTORY OF ADDICTION AND ILLNESS
Perry had been an addict for about 30 years. In 1997, he went through a 28-day program for his Vicodin addiction.
He experienced a drastic weight loss of 20 pounds in 2000 due to pancreatitis. In 2001 he enrolled into a rehab facility again for an opioid, amphetamines, and alcohol addiction.
In May 2013, he was awarded as a Champion of Recovery by the White House Office of National Drug Control Policy for converting his former home to what he called "Perry House."
The sober living home is a mansion located in Malibu, California.
EXTENSIVE HISTORY IN FILM AND GAMING
In addition to NBC's long-running show "Friends," Perry has appeared in numerous films and a few television series.
He portrayed Ron Clark in the television movie "The Ron Clark Story" back in 2006. In 2012 he starred as "Ryan King" in the short-lived sitcom "Go On."
He gained both a Golden Globe nomination and an Emmy nomination for his role in "The Ron Clark Story."
2015's CBS's "The Odd Couple" featured the actor as "Oscar Madison." He is also co-writer and executive producer of the show.
Additionally, he played a role in "Fools Rush In" alongside his father and Salma Hayek. Other films in his resume include "The Whole Nine Yards" and "17 Again."
Perry's voice was featured in the video game "Fallout: New Vegas" for a character named "Benny."
PERRY HAS PLAYED DRAMATIC ROLES TOO
He was cast in three episodes of Aaron Sorkin's "The West Wing" as Associate White House Counsel Joe Quincy. The role garnered two Emmy nominations for Outstanding Guest Actor in a Drama Series in 2003 and 2004.
From 2006 to 2007, he was featured in the drama "Studio 60 on the Sunset Strip."
Please fill in your e-mail so we can share with you our top stories!