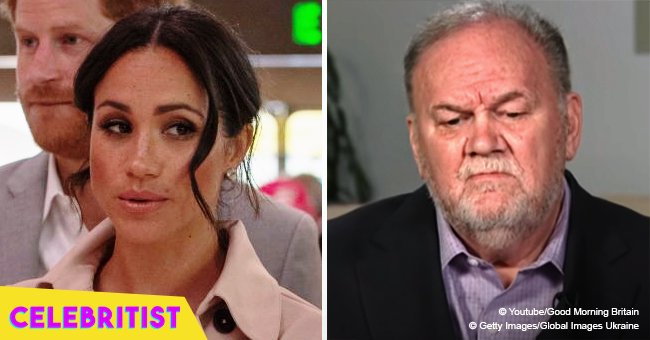 Meghan Markle's dad reveals he's received death threats from a violent criminal
Meghan Markle's father, Thomas gets emotional as he claims to have been receiving violent threats. Thomas has received multiple death threats that have been escalating, from a violent criminal, who warns Meghan's father that he will kill him.
Newly-wed royalty Meghan Markle's father, Thomas Markle, has apparently been receiving a series of threats from the ex-boyfriend of a close female friend, Lori Davis. The 74-year old man claims that the violent ex-convict, Jose Sandoval is behind these threats, and threats to Lori and her daughter Jocelyn, 11 years old.
Jose Sandoval is the ex-boyfriend of 38-year-old Lori Davis, a close friend of Thomas, whose child addresses him as 'Uncle'. Sandoval served 30 months in prison as he was guilty for his illegal entry to the US before being deported 18 years ago.
About a week ago, two events were reported about Sandoval's attacks, among his series of terrorizing activities. Thomas reported Sandoval threatening to kill him as he drove past his house in Rosarito Beach in Mexico, screaming "I'm going to kill you, you fat [expletive]!" However, the accused denied that such a thing ever happened. The second report was filed by my Ms. Davis who disclosed Sandoval of slashing the tires of Thomas.
Could it be a case of the jealous ex-boyfriend? Probably, but Ms. Davis does not see Mr. Markle as anything other than a "supportive friend" and "a rock" for her daughter and herself. In fact, she has been wrongly accused of being his girlfriend in the past.
In an interview with The Mail, she confirmed that Sandoval has made previous threats to people other than Thomas, one of which being to her and her daughter's lives. Within the duration of their relationship, he has also done pretty crazy things such as pour lighter fuel on her, threatening to set her on fire, and burned and slashed her clothes.
As for Mr. Markle, he too has been threatened in front of Ms. Davis. Thomas apparently sent a voicemail saying "[Expletive] you and Tom. Tom's got something coming too. Just you wait and see." Both have been taking action with the local police of Tijuana Mexico to take extra precautionary measures.
Please fill in your e-mail so we can share with you our top stories!