'The Voice' 13-year-old Kennedy Holmes stuns audience and all the judges' chairs turn
Teenager blasts astounded judges and audience with her incredible voice.
The preview for "The Voice's" 15th season, which starts on September 24 has set fans on fire with the promise of exceptional talent.
Aspiring singer Kennedy Holmes took to the stage of the hit talent show to sing Adele's "Turning Tables."
Kennedy hails from the "Show-Me State," and is well known in her community. She's performed several times at The Muny, an amphitheater in St. Louis. Her first production at the outdoor hotspot was in Hairspray when she was 10. She also sang the national anthem at several St. Louis Cardinals games. 
You're not gonna BELIEVE this performance! 😱🎶

See why this artist earned a FOUR-CHAIR turn when #TheVoice returns MONDAY 8/7c on @nbc. ✌️ https://t.co/DVePyi5JXi

— The Voice (@NBCTheVoice) September 18, 2018
Her talent was clearly show in her stunning performance in the competition. It was posted on Youtube by "The Voice" and garnered over 90,000 views in a few hours. 
BLAKE SHELTON BELIEVES KENNEDY CAN WIN
"I think you're the best vocalist that has auditioned this year. You already sound so seasoned and accomplished and have so much control, so much range."
When Holmes introduced herself to the judges after her performance and said that she was 13, Clarkson was astounded.
When she was introduced to Jennifer Hudson, Holmes told her she dreamed of singing with her and that her first performance had been Hudson's "I Am Changing."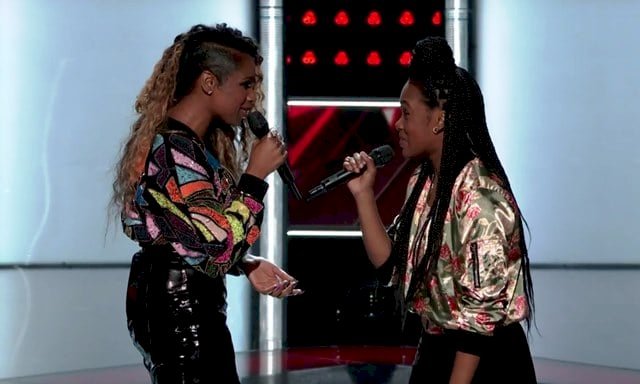 A DUET WITH JENNIFER HUDSON
Hudson promptly got up and said: "I'm ready," and took to the stage to sing a duet with Holmes. 
Their two voices blended seamlessly as if it had been an often-rehearsed performance, rather than an impromptu gesture.
SHELTON BEGS HOLMES TO PICK HIM AS COACH
Kennedy Holmes's mind blowing performance of Adele's "Turning Tables" garnered a four-chair turn around during the Blind Auditions. Kelly Clarkson, Jennifer Hudson, Blake Shelton, and Adam Levine battled it out  to get her on their team. 
Shelton made his pitch by telling Holmes he thought she was the greatest singer in the world and he wanted her to pick him so she could teach him to sing.
LEVINE SAID HOLMES REIGNITED HIS PASSION
Levine told Holmes that a voice and a powerful presence such as hers rarely appeared and that her talent had reignited his passion for his job. 
WHO WILL BE KENNEDY HOLMES' COACH?
The video ended with a teasing cliffhanger when Shelton told Holmes it was time for her to pick a coach. Holmes declared that she was a huge fan of them all but that she chose...
The clip ended, and fans who want to hear Holmes's answer will have to tune in for the first episode of the new season on September 24.
The young singer eventually chose Team Jennifer. She has now made it to the finale.
ANOTHER MEMORABLE "THE VOICE" TALENT
The winner of "The Voice" Season 14 was Brynn Cartelli who outsang three other contestants in a round that saw each perform a solo, a duet with their coach and an original song.
The 14-year-old singer is the youngest ever to win the competition and a win for coach Kelly Clarkson.
The singer cinched her victory with an astonishing performance of the Bond franchise theme song "Skyfall."
If Holmes wins, as Shelton predicts, she will break Cartelli's record of being the youngest winner ever.
In a related story, on "The Voice" Season 12's blind auditions 26-year-old Casi Joy left the judges speechless with her performance of  "Blue" by LeAnn Rimes.