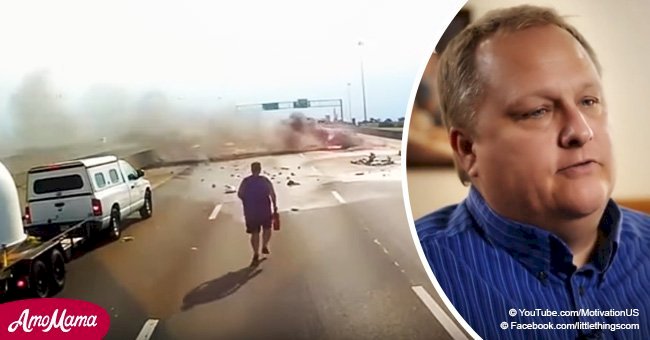 Trucker witnesses horror-crash and jumps out to help while his dash-cam records his heroic deeds

A trucker's bravery saves a little girl from a burning car
David Fredericksen, a professional truck driver, saw a car going the wrong way on an interstate in Biloxi, Mississippi.
He watched in horror as the vehicle slammed into a truck and exploded. His dash cam recorded the accident and it was posted on Youtube by MotivationalUS on September 18, 2018.
Seeing the car on fire, Fredericksen jumped out of his truck and rushed to the crash with a fire extinguisher in hand. He was afraid of what he would find but was determined to help.
"God, please don't let me have to deal with somebody halfway burned alive, screaming."
David Fredericksen, LittleThings.com, August 11, 2014
It all began when Fredericksen spotted the car dring down the road towards him - the wrong way.
Seeing the car burst into flames, Fredericksen stopped his truck and ran to the rescue, but deep down he was afraid it was too late to save the passengers from the deadly blaze.
THOUGH THE FLAMES HE GLIMPSED A LITTLE HEAD POP UP
At first, Fredericksen thought the car's passengers were dead, but then he saw a child's head through the back window.
HE BROKE INTO THE CAR TO RESCUE THE 1-YEAR-OLD GIRL
Fredericksen tried to open the back door, but the handle was melting from the infernal heat, yet he managed to open the door, grabbed the little girl and carried her away from the flames.
AN INEXPLICABLE MIRACLE
Although the car was in flames and the door handle was melting in the heat, Fredericksen's hands were unburnt, as was the little girl.
Fredericksen believes that God intervened and used him to help rescue the little girl. He believes that God placed him in her path to save her for His own purpose for her.
TRUCKERS CREATED A SAFETY BARRIER TO SAVE MAN'S LIFE
A group of truckers teamed up to help Police save the life of a man who was threatening to leap off an overpass to his death on the highway below.
The incident occurred at an overpass on Interstate 696 in Detroit, Michigan, when authorities were alerted that a man was apparently preparing to jump.
The officers arrived on the scene and while some calmly spoke to the man, their colleagues started flagging down passing trucks and asking them to create a "safety net" to prevent the man from jumping.
A total of 13 truck drivers were asked to stop under the overpass, and according to State Police Lt. Michael Shaw every single one did so willingly. Thanks to their cooperation, the Police was able to get the man who was having family problems off the ledge and to safety.
In a related story, a teacher and a school resource officer risked their lives and helped stop a possibly fatal shooting at a Florida school.
Please fill in your e-mail so we can share with you our top stories!