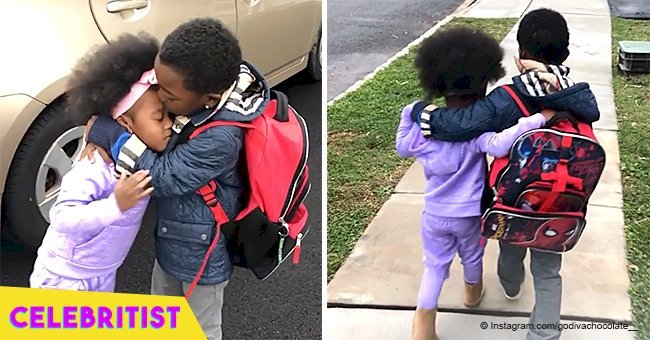 Sister runs to give big brother a hug as he gets off the school bus in viral video

A recording portraying three-year-old Ava and his brother, five-year-old Tariq hugging each other went viral as it shows pure sibling love.
The short clip that Verlonda Jackson, the children's mother, uploaded to her Instagram account began displaying a school bus parking on the street. Then, Ava looked at the bus and, as soon as the children started getting out, she hopped in the place.
When Tariq got off the bus, both children ran toward each other, clearly happy to be together again. Seconds later, the siblings shared a big hug in the middle of the street.
Tariq even held her sister up and took her to the sidewalk. Later, the video showed that the boy kissed Ava on her forehead and that the siblings were walking side-to-side.
A DIFFERENT RELATIONSHIP
Verlonda told Fox 7 that her children used to attend the same daycare. However, things were different as they used to bicker and fight, like most siblings. When the boy went to kindergarten and the siblings were forced to be apart from each other, things improved.
THEY MISSED EACH OTHER
Everything suggests that the siblings miss each other so much that they hug each other and share their love as soon as they get together after several hours apart.
Verlonda confessed that she recorded such a special moment to show it to her husband as a way to say: "Look! We are doing something right." She added that it was a pure moment.
ANOTHER WAY TO SHOW LOVE
After witnessing how a man killed his mother while trying to steal her car, an 8-year-old boy protected his two younger siblings until help arrived.
A man identified as Mark Haywood attempted to rob the vehicle of Porsha Owens, the mother of the children whose names were not revealed. He shot his gun, hitting the woman once.
Owens' 8-year-old son, who was the only witness, kept his siblings together and protected them while the ambulance and the police arrived.
Please fill in your e-mail so we can share with you our top stories!