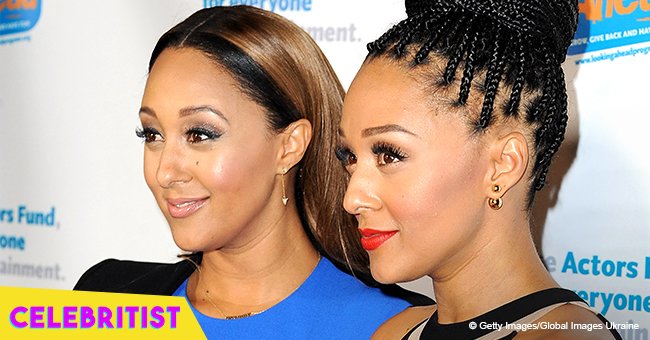 Tia Mowry steals hearts with close-up photo of baby daughter who 'looks like her cousin Ariah'
Baby Cairo Tiahna is melting hearts all over Instagram in a recent pic shared by Tia Mowry. The adorable 4-months-old is starting to resemble her mother, but some people believe she favors her cousin Ariah.
Tia Mowry and her husband Cory Hardrict welcomed their second child, daughter Cairo Tiahna last May, and even though they waited one month to introduce the girl to the world formally, Tia hasn't stopped sharing adorable pics of the baby on Instagram since then.
One of her most recent photos of Cairo shows the girl wearing a black onesie with a flower printed bib on top while resting atop a pink blanket on her carrier and smiling softly to the camera.
"This face!!!!!! #cairo," Mowry captioned the cute shot, quickly melting the hearts of her fans and followers, who didn't take long to flock her comment section with positive messages.
While some of Tia's fans agree that Cairo is looking more and more like her as she grows up, others seem to believe Cairo resembles her cousin, Tamera Mowry's daughter, Ariah.
User @domeccas wrote "She looks just like Ariah in this pic!" while @deborah_hines added, "WOW.....she looks like her cousin Ariah in this picture, the Mowry have strong genes!!!"
Cairo and Ariah are the youngest children of each Mowry twin. While Tia has 7-year-old son Cree, Tamera has 5-year-old son Aden.
TAMERA'S WISH FOR HER DAUGHTER
Speaking on "The Real" about her daughter, Tamera admitted a few months ago that she prayed for Ariah to have her skin color. The 40-year-old realized that she wanted her girl to look like her since her son resembles his father, Adam Housley.
"This is 'The Real' so I'm going to be honest," she confessed. "I really wanted Ariah to really look like me. Like, everything. Everything. I think she has my skin color and my eye color."
However, Tamera also revealed that while Ariah does have the characteristic she was hoping for, the girl also inherited her father's "big head." And her co-host, Loni Love, agreed with the statement, saying:
"Let me tell y'all. I was there at the birth and I love me some Ariah so do not take this personally Ariah, when you see this when you're 18-years-old. Ariah was 10 pounds and one ounce. And when I tell you that head…I thought her head was 9 pounds."
TIA'S NAME CHOICES FOR HER DAUGHTER
Tia, on the other hand, admitted that she named her girl Tiahna, spelled in that way because it has her name on it.
Besides, Tiahna means "follower of Christ" and was the first African Princess. Mowry also revealed on "Tia Mowry's Quick Fix" that Cairo, which means "victorious," came from a spiritual moment her husband had while flying on a plane. Cory allegedly saw the letter A, R and I in the sky, and he wanted his daughter's name to have those letters included.
Tia and Tamera are happy about their kids having such a close relationship, and Tamera revealed that her son had already a sense of protectiveness over little Cairo a few hours after meeting her. "We were talking, and she was sleeping, and Aden was like, 'Shhh, shhh," she revealed on "The Real."
Please fill in your e-mail so we can share with you our top stories!