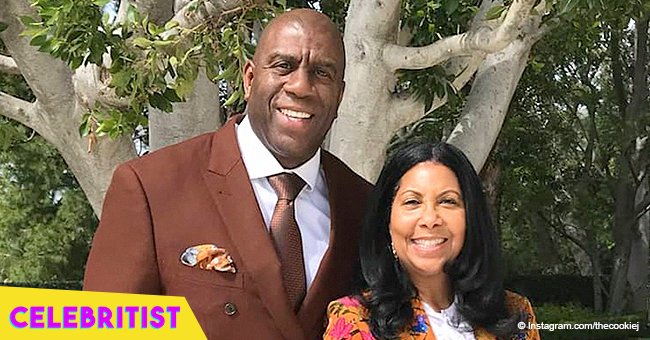 Magic Johnson & wife share cute family photo with all their kids after 27th wedding anniversary
Magic and Cookie Johnson recently reached a huge milestone in their relationship, and they celebrated with their loved ones in an intimate but lovely gathering.
The happy couple celebrated their 27th wedding anniversary, and after posting their respective messages to each other on social media, they had a real celebration with family and friends at a luxurious Italian restaurant in Beverly Hills.
Magic and Cookie took to their Instagram accounts to share a lovely pics with their family, including their children, EJ, and Elisa, Magic's eldest son from a previous relationship, Andre, his wife Lisa, and Cookie's mother, Mrs. Kelly.
In the adorable family portrait, Cookie is rocking a sleeveless pink dress and shoes of the same color, while Magic chose a burgundy suit with a white t-shirt and matching dress shoes. EJ, always the fashionista, rocked a see-through top with a glittery beaded jacket and black pants. Elisa, on the other hand, kept it cute with a denim skirt, a low-cut black top, and a flat black cap.
Andre, who's now married and has two children, looked classy with a buttoned-up blue t-shirt and dark jeans, and his wife Lisa donned a ruffled green dress that she combined with a Gucci purse.
Other friends present at the celebration were Samuel and LaTanya Jackson, Eric and Terri Holoman, Debbie and Darrell Pattillo, Dave and Tonya Winfield, and Judge Greg and Linda Mathis.
IN THE GOOD AND THE BAD
Hours before the celebration Magic took to Instagram to dedicate a few heartwarming words to his wife, accompanying two beautiful photos of her. He wrote:
"Your loving spirit has helped me survive some of the toughest times of my life. You continue to be my strength and the backbone of our family. Our family continues to receive abundant blessings because of you. Thank you for being my best friend, my family, and my support system. I'm grateful that God knew what I needed by sending me you."
Magic and Cookie have gone through a lot in their marriage. Just a few months after they tied the knot back in 1991, the former NBA found out he was HIV positive. Cookie was pregnant with their first child at the time, and she recently confessed she felt to her knees when Johnson shared the news.
But even though he gave Cookie the chance to walk out on him, she stayed by his side, supporting him and learning of the condition after a few tense weeks where they didn't know if she and the baby were also infected.
She recalled the moment in an interview with "Good Morning America" saying:
"He said, ''If you want to leave, you know, I don't blame you. It's OK. I understand.'' Then I said, ''Are you kidding me? No. I love you. I'm gonna stay here and help you live. I'm gonna stay here and we're gonna beat this thing. We're gonna figure out how to beat this thing''.'
Cookie and Magic are now enormous advocates for HIV and AIDS, and they're always supporting causes to raise awareness on the disease and help those affected by it.
Please fill in your e-mail so we can share with you our top stories!