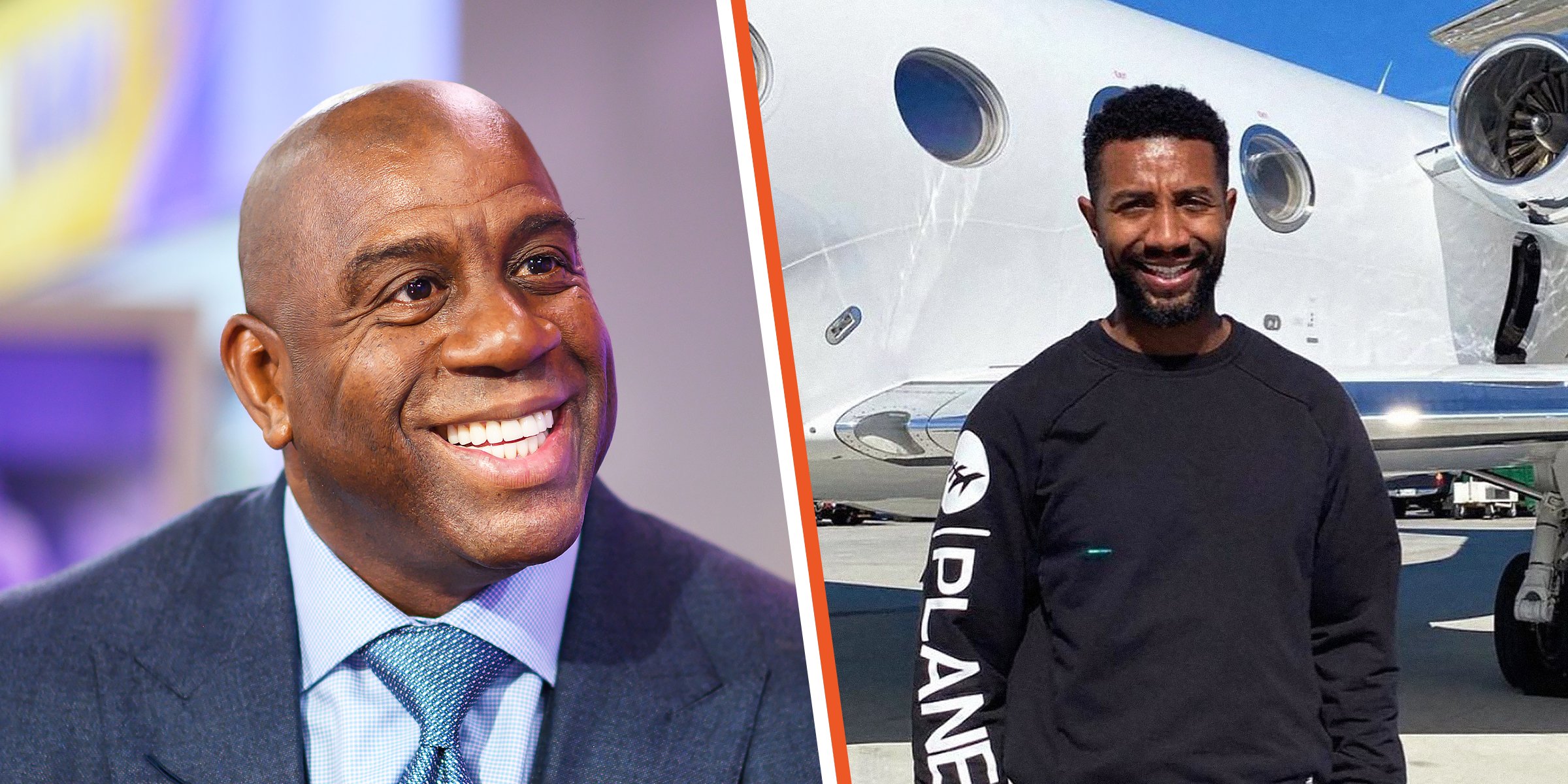 Magic Johnson | Andre Johnson | Source: instagram.com/johnsonboywonder81 | Getty Images
Andre Johnson Worked for His Father's Company & Co-hosts a Podcast - More about Magic Johnson's Oldest Son
The eldest son of Earvin "Magic" Johnson, Andre Johnson, is married to Lisa Meyers Johnson, and together they have two adorable children, daughter Gigi and son Avery. He has a close personal and business relationship with his MVP dad.
Andre Johnson co-hosts a culture podcast, "Please Elaborate," where he expands on topics related to fashion, sport, gaming, and other themes important to him. Guests include the first woman coach in the NFL, Dr. Jen Welter, and Jacob Blake Sr.
Photos of his tattooed beach body, taken while on vacation with his dad in Hawaii, went viral in 2016. He shares a name with Andre "Dre" Johnson, portrayed by Anthony Anderson on the sitcom "Black-ish."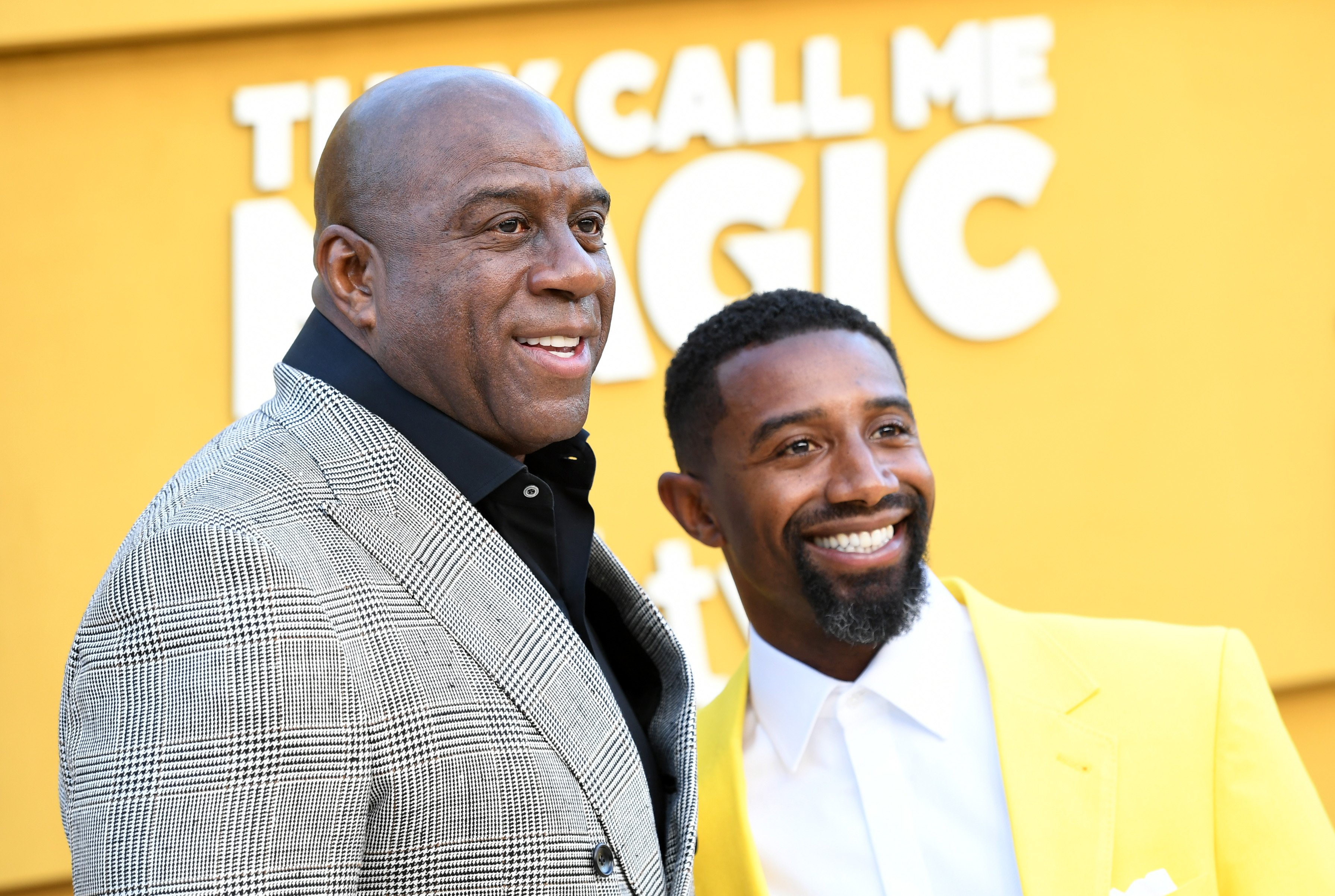 Magic Johnson and Andre Johnson attend the Los Angeles premiere of Apple's "They Call Me Magic" at Regency Village Theatre on April 14, 2022 in Los Angeles, California. | Source: Getty Images
Meet Andre Johnson
Andre, or "Johnson boy wonder 81," as his Instagram followers know him, identifies as a believer, chief inspirational officer, and innovator. He was born on February 20, 1981, to Melissa Mitchell and Magic, who was 21 when he fathered his first child with his girlfriend, per Hollywood Life.
The podcaster was raised and lived with his mother and sporadically visited his father and half-siblings, per Heavy. He co-hosts the podcast "Please Elaborate" with Mike Dupree.
The podcast has a five-star rating on Apple Podcast. A listener said it is a "bright and fresh perspective on culture, business, and life," and another praised the hosts for setting an excellent example for Black men.
Magic Johnson's Son Was the Executive Vice President of His Company
Andre Johnson graduated in 1999 from Santa Monica College with a degree in Business Management. Upon graduation, he worked in A&R for five years at Elektra Entertainment with artists like Jay Z, Missy Elliott, and Gwen Stefani.
He served as the Vice President of Business Development at Magic Johnson Enterprises between 2004 and 2010. After a stint as an asset manager, he returned to his father's company as Executive Vice President between August 2012 and April 2014.
Since the beginning of 2022, he has been the Executive Vice President of Business Development at SimWin Sports, a digital sports league based in California. In June 2022, Magic announced that he had acquired new football and basketball franchises in the league.
Andre Johnson's Wife Is a Co-Founder of a Non-Profit Organization
Lisa is the co-founder and executive director of the Private School Village. This non-profit organization seeks to connect and create a community among the Black/African American families whose kids attend private schools in Los Angeles.
According to their page, they "build community by organizing social events, sharing resources, and providing programs for Black/African American families in independent schools." Lisa graduated with a B.A. in Rhetoric and Communication Studies from the University of Virginia
The mother of two co-hosts a podcast, "eRaced," with Collette Bowers Zinn, the CEO of Zinn Education Management. She has held positions at the American Cancer Society and Black Entertainment Television.
Andre Johnson Is a Doting Father
Despite their busy lives, Andre and Lisa attend the kids' school performances and games. They share glimpses of their luxurious adventures on social media. His younger son Avery plays baseball and basketball. He was a guest on his dad's podcast on October 2, 2020.
Despite not growing up in the same home, he has a good relationship with EJ and Elisa.
His daughter Gigi is a talented athlete, playing volleyball and basketball. She starred in school productions of "Legally Blonde" and "Hamilton." Given her height, she dabbles in modeling and walked the runway at the Ladylike Foundation luncheon.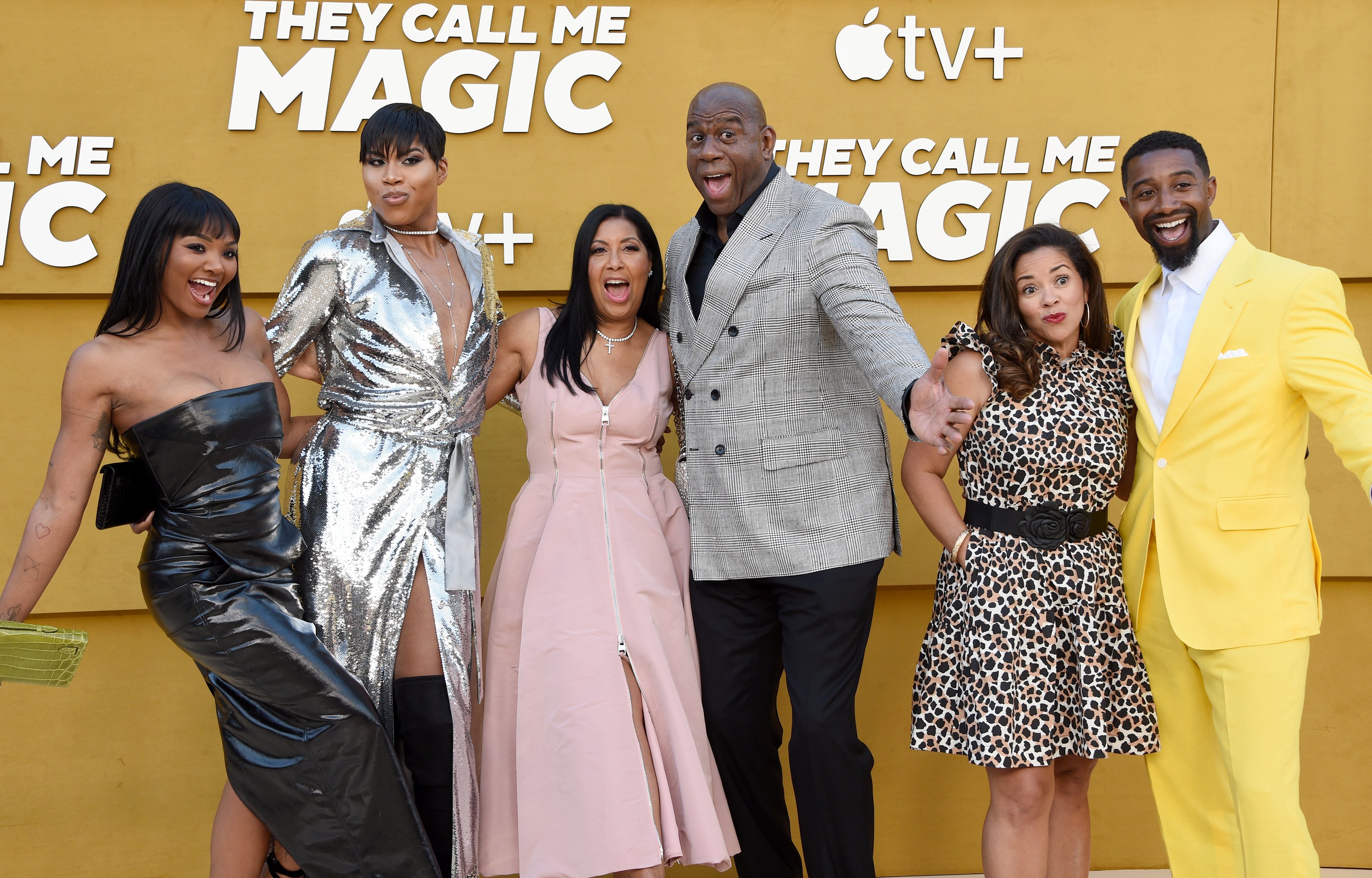 Elisa Johnson, EJ Johnson, Cookie Johnson, Magic Johnson, Lisa Johnson, and Andre Johnson attend the Los Angeles Premiere Of Apple's "They Call Me Magic" at Regency Village Theatre on April 14, 2022 in Los Angeles, California. | Source: Getty Images
Andre Johnson Is Close with His Family
Andre posted an Instagram holiday card in 2020 with his whole family, including Magic Johnson, stepmom Earlitha "Cookie" Johnson, gender-fluid sibling Earvin "EJ" Johnson III, and sister Elisa Johnson, wearing matching Dodgers jerseys.
Andre's mother does not have a public persona; it is unclear if she joins the family on their fabulous vacations as she is not featured in any images. Despite not growing up in the same home, he has a good relationship with EJ and Elisa.
All the Johnson siblings came out to support their dad at the premiere of "They Call Me Magic" on April 14, 2022. Andre paid tribute to Magic on his birthday, thanking him for setting an excellent example as a father.
For EJ's thirtieth birthday on June 4, 2022, his big brother proclaimed to be blessed as he could "not be more blessed to have such an incredible brother" and said they brighten every space.
Please fill in your e-mail so we can share with you our top stories!