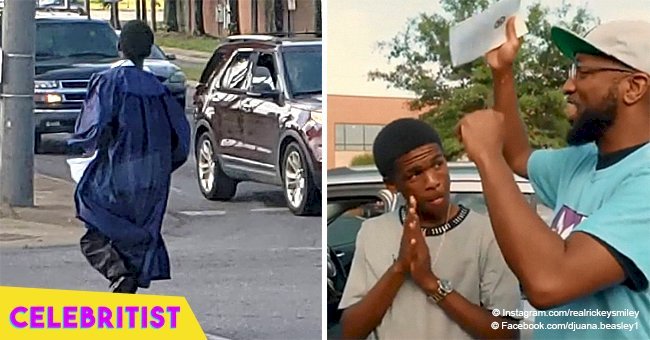 Graduate who waited for a bus alone in viral photo, gifted with car by famous radio host

A graduate made sure to get to his graduation ceremony on-time by riding the public transport to school. This is also what he did every single day, getting up at 4:30 am just to make it to school.
Corey Patrick was praised by people from all over the world after it was discovered that he walked alone to his graduation to take the public bus. A local of Alabama, his photos went viral of him in a toga while trying to make it to the bus stop.
Tugging at heartstrings all over the world, thousands of messages praising his determination flocked online after local bus driver DeJuanna Beasley posted his photos.
Patrick, a graduate of Tarrant High School, has been traveling 90-minutes a day through his final year in high school after his family, who does not own a car, moved out of the area of his previous school.
However, Patrick was keen on graduating with the rest of his friends. When interviewed by WBRC after his photo went viral, he said:
"I had to do what was necessary for me to walk this year."
His mother Felicia White and the rest of his family managed to get to the school just in time for his graduation, and they couldn't be prouder.
"Corey was getting up at 4.30 in the morning and had to be at the bus stop at 5.41 in the morning for the last year."
She made sure to thank all those sending in their support for their family, one of those being Radio host Rickey Smiley, who has his show broadcast on Alabama station 95.7 Jamz. When he heard about Patrick's story, he invited him into the studio. During the interview, he told the teenager that they were about to buy him a car.
"I need you to go and get your driver's license. We're going to buy you a car."
The grateful student was in tears after indeed receiving a new car from the TV host, and his viral pictures have also made him the recipient of numerous college scholarship opportunities.
An overwhelmed Patrick said that what had happened means "everything" to him, and that it'll continue to motivate him to push for excellence no matter where he went.
Please fill in your e-mail so we can share with you our top stories!