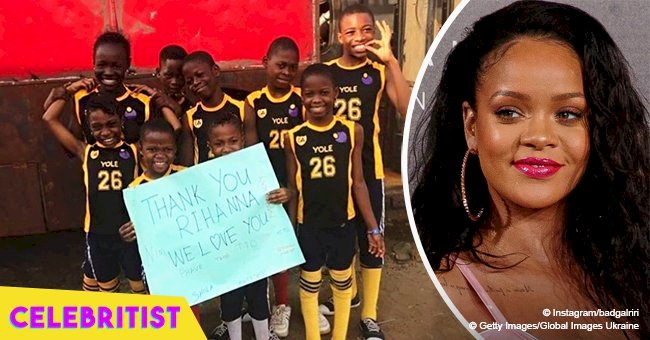 Nigerian kids wow with their dance skills in viral video shared by Rihanna
A couple of Nigerian kid dancers have left the world stunned with their viral dance video, all thanks to Rihanna. The convener of the dance group revealed something almost unbelievable about them.
After becoming the first woman to reach two billion worldwide streams on Apple Music, Rihanna took to Instagram to celebrate. Alongside a caption announcing her big news, the "Diamonds" singer posted a video of kid dancers.
The youngsters appeared to be at a vehicle dumpsite where they displayed impressive moves to "Nowo" by Nigerian act Wizkid. Their colorful ensemble comprised of African-print playsuit, yellow socks, colorful berets, and sneakers.
The four dancers captured in the video took turns in the spotlight showing off individual moves. The clip went viral instantly with people commenting on how energetic their performance was. Rihanna also said as much in a subsequent photo where the kids held up a "Thank You" banner.
She wrote:
"You really brought a pure joy to our spirits just by seeing how happy you are when you dance! You personally made my day! Keep up the great work kids!"
WHAT DID THE KIDS THINK OF RIHANNA?
Interestingly, the group founder, Seyi Oluyole revealed that up until they went viral, the kids did not know who Rihanna was.
"Considering their backgrounds, most of the kids did not really know them [the celebrities]," explained Seyi.
The dance group is called Ikorodu Talented Kids and is a part of Oluyole's initiative, The Dream Catchers, that gives children a home while teaching them how to dance. The 26-year-old opened up about what led her to its birth:
"As a teenager, I had slept on the road a couple of times due to some financial issues my family was going through. Hence my passion was born to help other children."
WHY DID THE SINGER MAKE THEM CRY?
Oluyole said the kids were moved to tears and encouraged by Rihanna's recognition. They'd been dancing and tagging celebrities for so long without any response.
"A lot of us cried because it's like the moment we've always been waiting for might be here. People have told us we are wasting our time. People have told the children they could never make it."
"The whole idea that the person who saw the video is a celebrity in another country is what they loved the most. We had some tears when I explained what it meant."
The group, which consists of nine children from age six to 15, has also been recognized by other celebrities including music mogul Diddy, and supermodel Naomi Campbell.
Please fill in your e-mail so we can share with you our top stories!