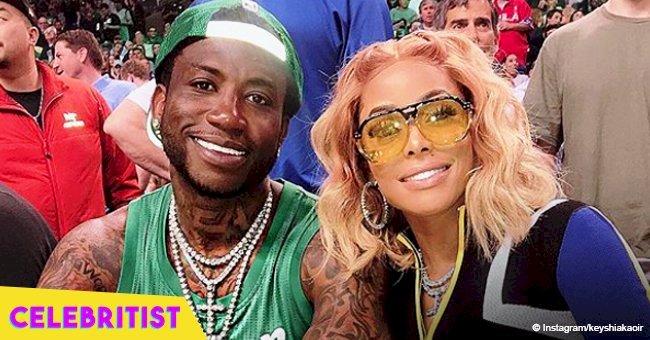 Keyshia Ka'oir flaunts her wealth, wearing $1K sneakers while lying on top of a Lamborghini in pic
Business mogul, Keyshia Ka'oir, is living her best life and wants us all to know it. She recently took to Instagram to share a photo where she sat on a whole lot of money.
Ka'oir posed in a Fendi top and fitted black pants. Her hair was pulled back, but Ka'oir shielded her eyes from the sun with dark glasses. Her choice of footwear was a clear statement of riches too. The socialite chose a Fendi pair that cost $1,000.
But maybe the most noticeable sign of wealth in her photo is the custom blue Lamborghini on which she reclined.
Ka'oir has never hidden her love for the finer things of life, and fortunately, her husband Gucci Mane loves to pick up the bills for those things. Earlier in March, Mane took to Instagram to post series of photos, referring to himself as "Sugar Daddy Mane."
He treated his wife on a shopping spree and told her to "buy what you want."
Mane might have no trouble spending money on his wife, but Ka'oir does not depend on him. The Business mogul is known for her cosmetics line which has been promoted by celebrities like Snooki, Teyana Taylor, and rapper Trina.
Ka'oir's fitness venture also sees her selling weight-loss products, from slimming teas to waist shapers. The multiple business owner prides herself on having used all of her products, and so far, it looks like her strategy is working.
Last year, Ka'oir revealed that her businesses made her around $30million.
The reality star and her rapper husband tied the knot last year in a lavish ceremony that cost almost $2million, but Ka'oir insisted she lives within her budget.
"I take care of everyone, but it's not done to a point where they're using me or it's going to put me in financial difficulties. I have a lot. My fiancé and I we just built our home, cash. All of our cars are paid for. We don't live on debt. I like nice things and I do spend, but I put myself on a budget. I just don't do stupidness [sic]."
She added:
"Sometimes I think, man, you just spent a million in a month, but then I think, sometimes you've got to live. You just can't be stupid about it."
Please fill in your e-mail so we can share with you our top stories!