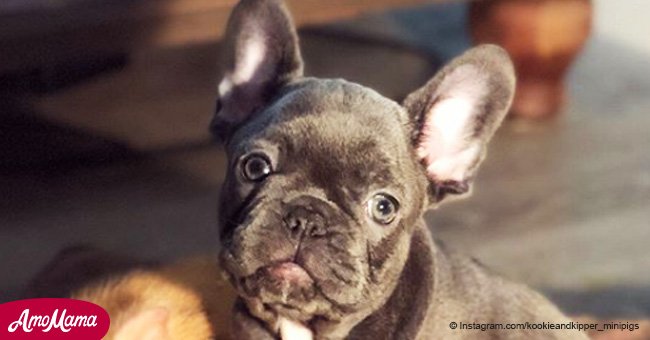 French bulldog becomes best friends with a little piglet
Keeva the French bulldog and Peanut the piglet are best friends, and it's very adorable.
Keeva and Peanut have become inseparable from the moment they met. According to an Instagram post in 2016, they do everything together. Follow us on our Twitter account, @amomama_usa, to learn more.
"These two. They eat together, play together, sleep together! They have become great friends!" user "kookieandkipper_minipigs" wrote.
As reported by The Dodo, Keeva was initially adopted to be a friend for Piper the pig.
Though Keeva and Piper get along, they're not exactly best of friends.
So Keeva, who is a very energetic little pup, was delighted when her owners decided to adopt another little piglet for her to play with, called Peanut.
Peanut was being raised to be eaten. Luckily, Keeva's family rescued him from living in a tiny cage.
The pig quickly loved everything about his new home, particularly Keeva.
Keeva was thrilled to have someone her size to play with finally. Peanut, on the other hand, was just excited to have someone to play with at all.
Apparently, the pair loves to take care of each other and be there for each other.
Another adorable animal friendships happened when Meg the dog encountered a tiny, wild baby bunny and decided to keep him forever.
Meg probably had no idea what to think when she first came across a baby bunny running around her yard. The bunny appeared to be a little uncertain about how to act around her at first because he was tiny.
Shortly, Meg warmed up to the little guy. She even tried to give him some space. However, the bunny was quick to leap as close as possible to the dog. The pair seemed interested in making friends with each other.
In the video, Meg can be seen nudging her newfound friend through the yard. She followed along behind the tiny bunny to keep him safe and secure. In fact, she hardly left his side.
Meg and the bunny then seal their bond of friendship with a nose-to-nose sniff.
Please fill in your e-mail so we can share with you our top stories!