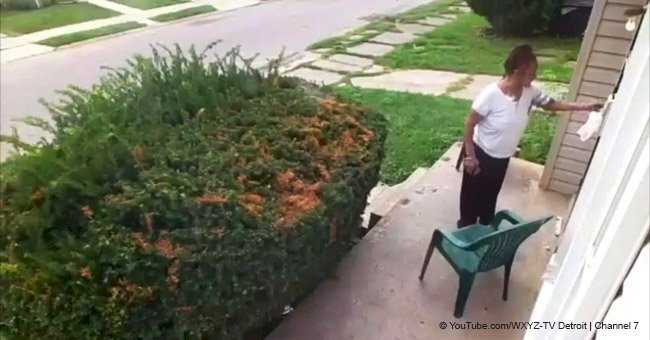 Homeowner horrified when security camera reveals what the neighbor was rubbing on his front door
Temper can get the better of us but this lady went a bit too far in her act of revenge.
"I picked it up, I took it, I put it on her doorknob," Mullins said. "You didn't want to clean it up here, you're cleaning it up there. I don't want to be a vigilante, but I had to do what I had to do."
One lady's desperate attempt to put an end to her neighbor's dog from doing his business in her lawn leads to a shocking act that was caught on camera in Detroit, Michigan.
Follow us on Twitter @amomama_usa for footage of this tale of revenge.
The majority of people have dogs as pets, either as protection or companionship. This particular neighborhood had one lady fuming to a boiling point when her neighbor's dog used her yard as a dumping ground and the owner refused to pick it up. So, to solve the problem, she smears the dog's feces on the owners' door.
WATCH THE LADY CAUGHT IN ACTION BELOW
Brenda Mullins as you can see was outraged. She certainly may have gone too far but she didn't know any other way of getting her neighbor's attention.
You would expect that the neighbor would have received a complaint but now but Brenda avoided confrontation and took matters into her own hands, literally.
IT'S VIRAL ON TWITTER AND PEOPLE ARE HAVING THEIR SAY
Brenda doesn't deny doing the 'dirty dead', but she admits that it escalated further than she'd expected in a desperate attempt to get her neighbors' attention.
The public is in two minds about the matter. Some in agreement with the act and suggest she take the matter further.
Although not labeled as 'classy', but both of them would have learned a lesson from this experience. One that definitely won't be forgotten.
This revenge that turned into a nightmare has found its way on the media and sure is a sticky situation that is hard to rub off.
Here's a similar story but one not so justifying where a man was accused of throwing dog feces out of his car window.
What on earth was he thinking? A poor lady was the main target of this 'stink bomb' and in shock after the incident I'm sure.
Unlike Brenda who had a somewhat good reason for doing what she did, this Denver man was totally unethical about his actions when he threw a bag of feces at a girl standing at an automobile.
You can read more about it here.
On an ending note... take care of your pets and clean up after them. You don't want to be on the other end of a cranky neighbor holding a bag of dog feces or having a smelly gift waiting on your front door.
If you've ever experienced your neighbor's dog pooping in your yard or garden, here is the solution. No more worries about little surprises in your garden or angry neighbors at your door.
Please fill in your e-mail so we can share with you our top stories!