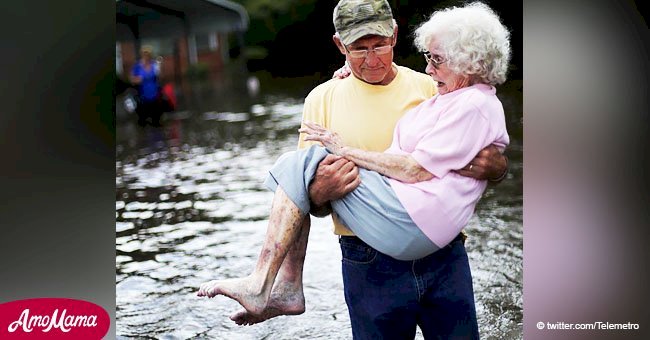 Bob Richling carried his wife, 84, out of their flooded home in the aftermath of a hurricane

Hurricane Florence has put North Carolina in a perilous state as dams risk breaching and the death toll continues to rise. Derailed trains, cut-off cities, and extensive business damages also left many in despair.
As of Monday, the Wall Street Journal reported that 32 deaths were attributed to the hurricane which was a Category 1 storm when it made landfall late last week. Tuesday morning saw the storm moving into the mid-Atlantic and New England region.
Swollen rivers are still expected to crest throughout this week due to the extensive flooding. North Carolina Governor Roy Cooper said: "The next few days will be long ones as the flooding continues."
Follow us on Twitter for more @amomama_usa.
Among the 25 deaths in North Carolina, a three-month-old passed away when his mobile home was squeezed by a fell pine tree. And on Monday, a one-year-old's body was discovered after it had been caught by rushing waters in Union County.
ELECTRICITY LOST AMID SEVERAL EVACUATION NOTICES
An estimated 390,000 residents were without power. But Duke Energy Corp. claimed on Monday that they had restored power to over 1.2 million consumers. Later, 12,000 more went offline in Virginia.
Others, about 17,000, remained under the roofs of shelters.
Meanwhile, evacuations orders were issued for numerous dams located from the North Carolina's northwest corner all the way down to the south-central border.
The Richmond Mill Pond dam experienced some overflowing but remained intact according to county emergency management coordinator Roylin Hammond.
At least 500 persons in Richmond Mill Pond and Fair Lakes in Scotland County were forced to leave the area. Hammond claimed they would not be allowed "back into the area below the dams until [authorities] have confirmation it is safe and secure."
Residents of Creston and Hoke County were also encouraged to evacuate due to their close proximity to rivers lower down from the dams.
THE DAMAGE IS EXTENSIVE AND INCREASING
In Anson County, one train, A CSX Corp. freight train, derailed. It sent nine locomotives as well as five railcars off the washed-out tracks.
New Bern also experienced extreme flooding which City Manager Mark Stephens explained has resulted in minimum $6 million worth of damage.
"Our city has suffered, obviously, one of the most devastating storms in its 308-year history this past week." He continued, "As you can expect, this is a significant setback at the hands of mother nature."
He informed news media at a conference Monday that damage to 4,300 homes and 300 businesses are just the initial estimates. However, over 800 people in New Bern were saved by emergency responders.
Overall, 2,600 rescues is the figure reported for the entire North Carolina state as of Monday.
Among them, Bob Richling carried his wife, 84-year-old Iris Darden, from their home in Spring Lake. Striding through the water may have been safe at that time, but now poses a threat to residents' drinking water supply.
CITIES ARE COMPLETELY CUT OFF
The city of Wilmington was also totally blocked due to flooding. Only one route could be used to deliver 23 trucks of supplies, water, and food.
Crusoe Island is another area that locals claim has "just one way in and one way out" according to NBC News.
SEVERAL LOW AREAS AT RISK OF FLOODINGS
In Lumberton, the Coast Guard worked tirelessly transporting people from flooded low grounds to higher grounds. The Lumber River had overflown.
Jason Murphy, a Coast Guard machinery technician, took part in the rescue for that area. He said:
"In Lumberton, we watched the town start to flood out. Everywhere we go it'll be hit or miss. There'll be spots where it's high and dry and then that."
He further explained the "frustrating" situation:
"We'll have convoys of five, six, seven vehicles. I got to make sure I'm going the right way and I can't see where I'm going. It's just frustrating, stressful and a lot of fingers crossed."
Tommy Batson, Pender County's assistant director of emergency management, urged residents that were "on high ground and not in harm's way" to "please stay put."
According to Batson, the hurricane's destruction is worse than that of Hurricane Matthew in 2016.
"Rebuilding will take years."
SOME ANIMALS FENDED FOR THEMSELVES
Of course, several lucky pets, strays and wild animals were rescued by kind-hearted persons amidst the storm. But many had to save their own souls.
An alligator walking across the street was recorded by Tracie Byrd during the beginning stages of the storm on September 14 last week.
The woman took the bizarre scene and turned it into a source of laughter, going into hysterics in the video as she screamed, "Run gator, run! Run from Florence!"
Please fill in your e-mail so we can share with you our top stories!