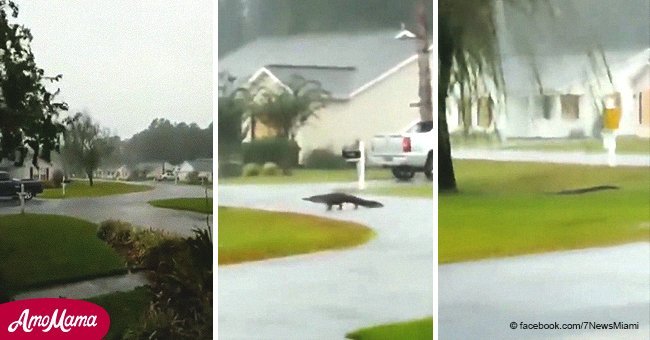 Hurricane Florence causes alligators and other animals to wander the streets

A Facebook video showed how Hurricane Florence displaced not only people but many animals from their homes.
Myrtle Beach was the setting of a remarkable sight that featured an alligator as it rushed across the street on September 14.
According to MSN, Tracie Byrd filmed the animal. The local woman was in hysterics. She laughed as the alligator made its way through her neighbourhood, Osprey Cove.
"Run gator, run! Run from Florence!" she said.
Follow us on Twitter for more @amomama_usa.
The local woman seemed to be making light of the storm which has devastated homes and caused over a dozen deaths so far.
The video garnered over 27,000 views. In the comments, many appreciated that residents can still take the time to be positive despite the effects of the storm.
And in another area, the Myrtle Beach Department was tasked with prodding several ducks back into a cage after they escaped due to the storm.
The clip was also uploaded on Facebook where it has been viewed over 11,000 times since Friday.
Additionally, according to MSN, the Outer Back's wild horses appeared unbothered as the storm settled down.
The Horse Fund described the horse situation:
"Here on the northern Outer Banks we are breathing a sigh of relief today. As you can see, the horses are doing their normal thing - grazing, socializing and wondering what us crazy humans are all worked up over."
"We will keep posting updates throughout the weekend, but please rest a little easier knowing the horses in Corolla were spared the brunt of the storm."
A family of deer was recorded as they made their way to higher ground to escape the flooded terrain.
Meanwhile, Charleston Live 5 reporter Alissa Holmes spotted a baby octopus which she shared on Twitter.
Videos of animals surviving are always something that makes the internet world feel a bit better. And in such situations, it lifts our spirits amid disheartening crises.
One lady took it on her own to give hope to those around her as she sang out in an evacuation centre in New Bern during the hurricane.
Cathy Yolanda Wright invited others to join her in singing gospel songs at the Trent Park Elementary School. Many did and Inside Edition shared the clip on YouTube.
The hurricane has been downgraded to a Tropical Depression as it continues along the southeast coast of the country.
Please fill in your e-mail so we can share with you our top stories!