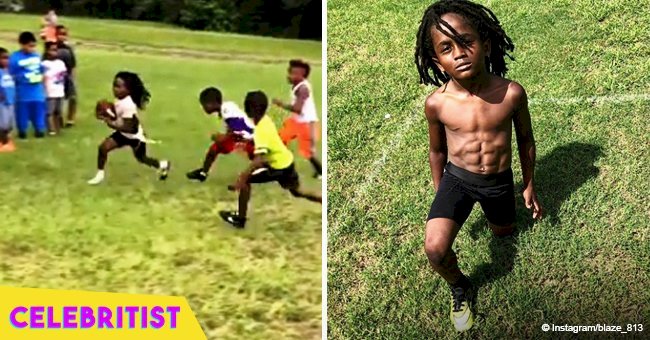 7-year-old boy with six-pack abs goes viral, performing like a 'beast' on the football field
A seven-year-old boy impresses with his amazing skills in football that he's now projected to be the next Barry Sanders. The young athlete is also a track and field runner who sports six-pack abs.
Rudolph Ingram is a newly turned 7-year-old boy who recently impressed viewers in a video where he showcases his amazing skills playing football. The young boy who also happens to have six-pack abs can maneuver his way out of tight spots with the speed and agility of a professional player.
In the clip that's now gone viral, Rudolph flaunts excellent skills as a running back as he hangs on to a football and quickly paces his way through the field. He successfully keeps all his flags since he's quite the runner.
One fan who's seen the video describes him as a "straight beast!" while another writes, "This is a grown man."
Rudolph is apparently a very athletic kid. Apart from playing flag football, he's also into track and field and can complete a 100-meter dash in less than 15 seconds. That explains his pronounced abs despite the fact that he's only 3'8" in height and weighs 45 pounds. A native of Tampa, and referred to as "Blaze the Great," he's also being predicted to be the next Barry Sanders.
Even Lebron James couldn't help but comment on his amazing football skills. The NBA player wrote, "Sheesh" before adding,
"Man he shifty as hell and the fact his was switching the ball to his other hand on the right side away from the defender is even more impressive."
Here's the video that caught LeBron's attention.
Rudolph is the latest in a string of child sports prodigies that have made headlines in the past years. In 2008, 11-year-old Jashaun Agosto impressed with his dribbling techniques and accurate basketball shots.
9-year-old Sam Gordon surprised when she dominated the boys' game of football.
Japanese soccer whiz Nakai Takushiro was only 7 when he was pegged the next Lionel Messi.
Jashaun is now a starting point guard for the Garfield High School basketball team. Sam has since appeared in a Wheaties box cover, "Good Morning America" and is now a popular YouTuber. Meanwhile, in 2013, Nakai was signed by popular soccer club, Real Madrid.
Please fill in your e-mail so we can share with you our top stories!