Guy appeared at a restaurant in a scary look imitating a demon from 'The Nun' film
A man in Brazil went viral on Facebook as he was recorded eating at a restaurant while he was dressed up as a nun based on the recently-premiered film, "The Nun."
Roberto Da Matta Filgueiras was eating his meal at his local fast food chain earlier this month when he saw a man dressed as a nun at the next table.
The man had his face painted in white and finished the look by covering his lips and eyes with black makeup.
It was clear that the man was imitating the demon from the hit horror film, "The Nun." Filgueiras took the chance and recorded the strange man.
Follow us on Twitter at AmoMama USA for more viral stories and videos.
Despite his scary appearance, nobody at the restaurant seemed bothered by his get-up. It looked as if he didn't care as well since the man was casually enjoying his burger at the time.
A couple of days after Filgueiras posted the video on his Facebook page, the clip quickly gained attention and raised more than 14 million views.
Apart from the man from the restaurant, other people have been becoming viral as they also dressed up as scary nuns. Most of them appear to play pranks on people by scaring them.
The costume has been inspired by the release of the new Warner Bros. film, "The Nun."
It is the most recent movie in "The Conjuring Universe," which features a Roman Catholic priest and a novice nun, who both end up confronting an evil force.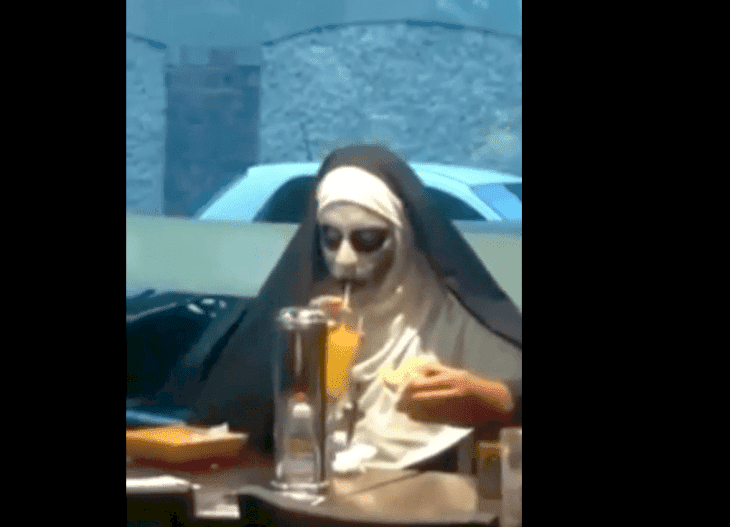 Source: Facebook
It is the fifth movie in the franchise, resulting from two spin-off films.
The first one was based on the possessed Annabelle doll, and the second featured the nun.
While critics have proclaimed their dislike over the movie, it has been declared as the biggest horror movie of the year.
As revealed by Mumbrella Asia, "The Nun" gained $3.708 million during its first weekend in the Australian box office, which made it the highest opening weekend of the five films in the franchise.
Please fill in your e-mail so we can share with you our top stories!