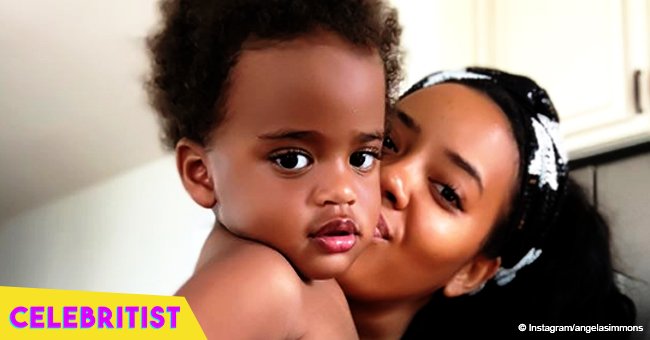 Angela Simmons's son rocks adorable backpack as he gets ready for first day of school in pic

Angela Simmon's adorable son rocks his bright colored backpack as he gets ready for the first day of school. His stage mom captions the moment and proudly posts it on Instagram.
Two days ago, Angela Simmons posted a collage of her adorable son, Sutton Joseph Tennyson, rocking his new spikey school bag. The post instantly got over 72,000 likes and was flooded with comments about how adorable her son looked. The proud mom's caption was:
"As if the day couldn't get any better.. today is your first day of school Mama boy getting so big !!"
Just a few months back, Angela opened up to the public about the struggles of being a single mom. While almost every person in a marriage
"I thought I met my husband. It just didn't happen. I feel like I'd done everything I could with the relationship. I went to counseling, and I really never could imagine in a million years number one having a kid out of wedlock, and then the whole relationship just crumbling."
Although the event of having a child came as a surprise to her, Angela never showed shame in her son as she was always proud, posting him on her Instagram. She continued on her journey in single motherhood:
"For me, it's already a lot. Everyone has to look at me and be like, 'Oh, you're not married, and you're not this, and you're a reverend's daughter.' I'm going through all of that, and then I have to raise a kid in front of the world single."
Even with Angela's doubts, she was able to show the world that she could handle being a single mom and raise her child well. Definitely, she is a proud mother who supports and showcases her son to the public. In this day and age, being a single mom is not something to be ashamed of, and in fact, in the long run, it will be something she can be proud of.
Most definitely, Simmons is doing a great job raising her son, and it has reflected in the way Sutton has been growing up. While she has that part of her life figured out, her fans have been wondering about who she is going to end up with. Prior to getting engaged to Sutton Tennyson in 2016, she was in a long-term relationship with ex-boyfriend Romeo Miller.
After her split with Tennyson, people hoped that she would end up with Miller. Now that it seems she is entertaining new suitors, however, only time will tell who she will be having her happily ever after with.
Please fill in your e-mail so we can share with you our top stories!