Heavily pregnant woman dances her way to labor with husband in viral video
A heavily pregnant woman left internet users stunned when she employed a few dance steps to induce labor. The viral video also shows her husband joining in and backing her up.  
The almost-three-minute-long footage begins with the pregnant lady stepping out to the beat of "Baby Mama" by Fantasia. She's dressed in a pair of black pants, and a black t-shirt rolled up to show her protruding midsection.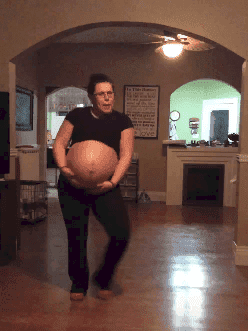 She mouths lyrics from the upbeat tune while rubbing her belly, and her husband waltzes in from behind. Wearing a tracksuit top and black pants, he busts some moves in sync with his wife. His stay is brief, and very soon, it's the mother-to-be doing a solo dance again.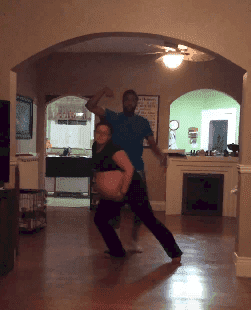 Twerking as though her life depended on it, the pregnant woman moves the full length of the room again, just in time for her husband to re-emerge at the chorus. He's in a different outfit this time and dramatizes some of the song's lyrics with his woman.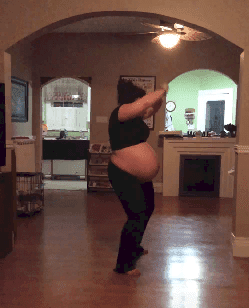 It's not clear why the husband keeps changing outfits, but soon enough, he re-emerges for another chorus in different clothes. His routine this time includes rubbing his wife's belly and helping her up after she kneels to pull off a dance move.
Not one to be deterred, she continues dancing right after she's helped up. She looks to be in the advanced stages of her pregnancy, but this expectant mama doesn't miss a beat until the song ends.
The video went viral immediately, reaching 700,000 views with two weeks of its upload on YouTube. It was also reposted by numerous social media pages such as "The Motherish" on Facebook where it amassed more views and the sweetest comments from other women.
One comment left by a Kathy Spears advised the energetic mom to ignore 'haters.'
WHEN DANCE IS NOT AN OPTION
Pregnant women trying to induce labor with dance is becoming quite the trend. One expectant mom who didn't have that option, however, is Glow Wilson. She was placed on admission by doctors to deliver her child.
Wilson's case went viral after she filmed her four-year-old son, Bryce, asking her to postpone his sister's birth and come home because he needs his "mama."