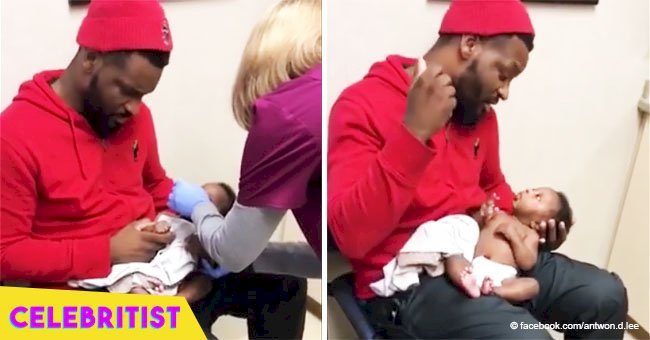 Adorable video of Georgia dad comforting son while getting first shots goes viral
A first-time father did his best to comfort his two-month-old son while visiting the pediatrician, and the video taken by his girlfriend has garnered millions of views. However, what many people don't know is that Antwon Lee suffered a terrible loss the same day the video was recorded.
Lee, 29, melted hearts all over the internet with his sweet and hilarious ways to comfort his baby boy, Debias King Lee, as he got his first shots. The loving father held the boy in his arms while the nurse prepped him for the shots, talking to the boy and telling him to be strong because "daddy" was there.
"Take it like a champ," Lee said in the video, which was recorded by his girlfriend. "I know you're going to cry, but it's okay to cry. You're going to be okay."
When the time came for little Debias to take his shots, he started wailing, but Lee was holding his tiny hand the entire time, peppering the baby's face with kisses and saying, "I feel you man!" and "Daddy loves you! Man, I know!"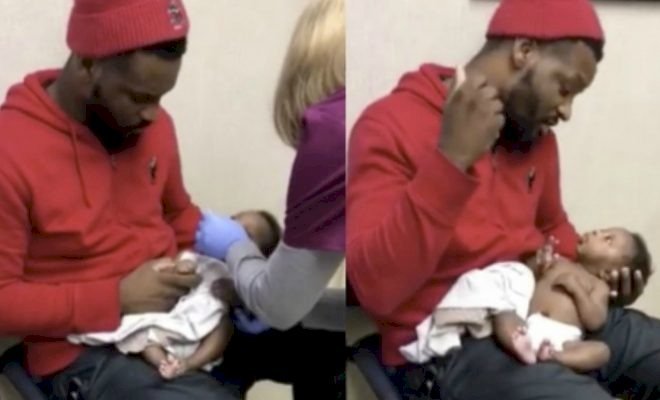 Credit: Facebook/antwon.d.lee
After the vaccinations were completed, Lee picks up his son and starts to rock him gently while still talking to him; the baby stops crying after a few seconds, proving how strong their father-son bond is already.
Speaking to People, Lee revealed that he was scared because he knew his son was going to feel some pain and added:
"I had to figure out a way to comfort him, and the day before, I talked to him and said if he needed to cry, go ahead and cry. That morning when we got there, and I let him know again it was okay to cry."
While the video has garnered over 17million of views, and comments from people all over the world praising Lee for his parenting skills, not many people know that the same day of the pediatrician visit, Lee got the news that his father passed away from complications from his drinking habits.
"I was very emotional. I was the baby son, I was very close to him," Lee said of his father. "But I don't deal with good or bad days; I deal with peaceful days. I deal with peaceful days, so I know my dad is in a peaceful place."
That same night, he revealed, he had a heart to heart conversation with his baby boy, reflecting about life and death and what he hopes for little Debias' future.
"I talked to him like a grown up. I let him know there will be a day I'm going to have to die; I'm going to have to leave this world," he said.
"I told him, before I leave, want to see him succeed. I want to see him succeed before I die, that's all I want."
Another black father who became viral for his excellent parenting skills was Terrel Crawford, who taught his three-year-old daughter a lesson when she made a scene at a Walmart. The man just let the girl calm down, asking her if she was done with her tantrum and educating parents on the best way to deal with children's' tantrums.
Please fill in your e-mail so we can share with you our top stories!