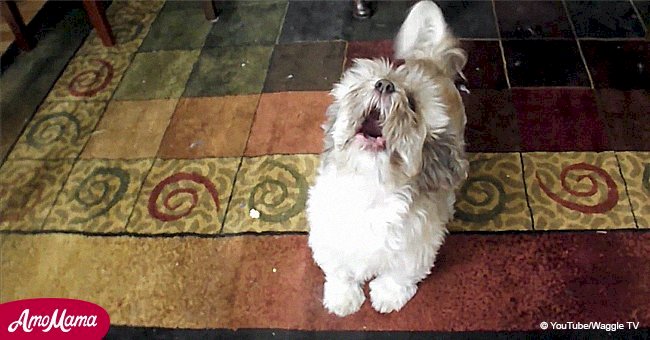 Cody the screaming dog's blood-curdling howls are almost too scary to listen to

Strange footage shows the dog named Cody whose blood-curdling scream sounds like a man burning alive.
In the clip below, Cody can be seen screaming at his owners who are filming him. However, the Maltese sounds more like a man yelling in pain than a dog barking.
Follow us on our Twitter account, @amomama_usa, to learn more and scroll down to watch the video below.
Since the video was uploaded to YouTube in 2013, it has been viewed over one million times. A lot of netizens also shared their thoughts via comments.
The viral footage starts with the owners calling Cody's name repeatedly. The puppy, who wags its tail the whole time, then responds with the blood-curdling scream.
It's not clear where the video was filmed or who initially uploaded it online. Some people have asked whether the screams are in fact coming from Cody and not its owners.
"Imagine walking by their house at night and you hear that from their backyard. You would run for your life in fear thinking someone was being attacked and you might be next," one YouTube user wrote.
While another user added, "If I broke into that house and that dog started screaming like that... I'd back out and close the door slowly."
"Whenever I need to seriously laugh, I can count on Cody. Tortuous screams emanating from a happy, tail wagging doggie!!" commented another user.
According to WebMD, the dogs howl as a form of vocal communication. They do it to attract attention, to make contacts with other dogs and to announce their presence.
There are also pooches who howl to response to high-pitched sounds like emergency car sirens or musical instruments.
However, if your dog begins to howl more than usual, bring him immediately to a veterinarian because they might be sick.
Please fill in your e-mail so we can share with you our top stories!