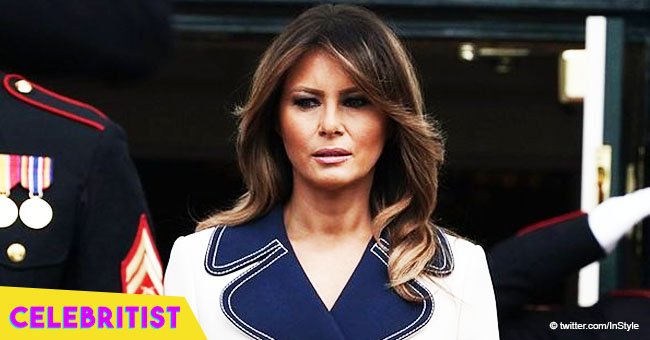 Melania Trump gets dragged for wearing $4000 Gucci coat to meet the Polish president

First Lady of the United States Melania Trump might have been a fashion icon recently for her latest look, but it also drew in a lot of hate. Welcoming Polish President Andrzej Duda and his wife to the White House, she sported a $4000 Gucci coat that was classy yet flashy.
Although the coat is extremely elegant and looked good on the former model, critics were left wondering why she wore a knee-length wool coat as D.C. temperatures were at 80 degrees Fahrenheit.
Her nautical-looking outfit that featured a white and navy blue coat looked chic as she paired it with a navy skirt or dress underneath. On her feet, she wore a pair of high navy pumps that showed off her slim physique.
While her outfit looked great, her statement coat definitely stole the show as it featured statement stitching, gold buttons, and a double-breast fold. Easily, it could be identified as one of the collection pieces of Gucci, which retails at $3980.00.
After she posted about the "productive visit" that President Andrzej Duda and First Lady Agata Kornhauser-Duda had at the White House, people were quick to notice how she was wearing an overcoat while indoors.
Multiple Twitter users asked why she was wearing a coat indoors, which was a sign of her not being comfortable in her own home. Others also made sure to point out that it was not good to look at, especially when welcoming guests as they should be looking as welcoming as possible.
The media has always had a keen eye for Melania's outfits, often posting photos of her different official engagements with the president, such as when they fly on Air Force One to head to different events.
Wearing a lighter version of her heels when she met the Polish President, Melania walked towards Air Force One with her husband in a navy blue Ralph Lauren dress. The 4-inch heels were designed by her go-to shoemaker, Manolo Blahnik.
Both Ralph Lauren and Manolo Blahnik are reportedly the First Lady's top choices when it comes to her closet staples, and most of her public appearances and official travel events feature the two fashion house owners.
Given the influence that FLOTUS has, her outfits have always been looked out for around the world. Often times, it's a hit-and-miss, with some outfits being adored and some being ridiculed.
Please fill in your e-mail so we can share with you our top stories!