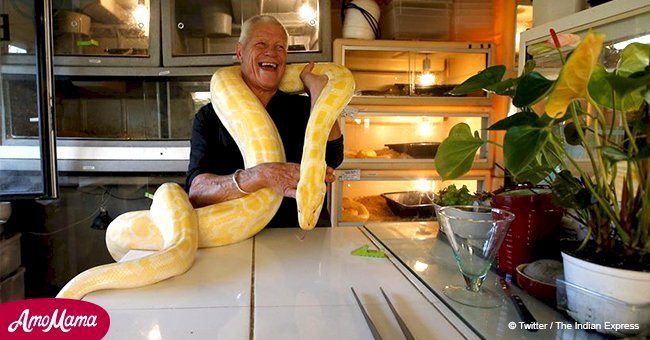 Man shows off his house with 400 reptile roommates and a big yellow python

Phillippe Gillet is a reptile enthusiast living in River Loire, France. He has shocked the internet with the massive collection of reptilian friends living in his own home.
The 67-year-old resides in western France near the city of Nantes. The single elder is not a loner though, he has neighbors over from time to time.
According to the Huffington Post, he also has over 400 animals housed under his roof. These include a variety of snakes, tarantulas, lizards, tortoises and, of course, his two pet alligators.
The incredible video of his closest friends is found below.
Follow us on Twitter for more @amomama_usa.
Gillet amassed his reptilian friends over a period of about two decades. Among them, an extremely large yellow python and a cobra. Most of the creatures are brought in by their former owners who no longer wanted to care for them.
Others were abandoned or donated to the reptile home. Ali and Gator, however, are the two alligators who were rescued from a leather farm.
Some might think Gillet is pushing the boundaries when it comes to safety with these types of animals, but he has a reason for his actions:
"I think it's unfair to treat these animals the way we do because we don't understand them," Gillet explained.
Some of the locals have acquainted themselves with the animals as well. Gillet claims they come in for tea regularly and are comforted by the fact that the most dangerous slithering creatures are staying in a room two doors over.
He continued, "We don't understand them, we hate them, we think they're horrible. But when we get to know them, you can call them over, tell them to come and eat something for example."
Nonetheless, the fire department for Gillet's area is playing it safe despite his reassurances. They have a specific policy whereby they are not to enter the reptilian lover's home even in emergencies.
And Gillet is going about things the right way. He said he has gotten all the permits required to hold and transport his animals for the roadshows he conducts. These are done for raising reptile awareness.
Unfortunately, most people think of a deadly attacking animal whenever they make reference to a reptile. This reflexive thought is justifiable for one woman in Morristown, Tennesse who encountered a snake in her backyard.
In May 2017, Roxanne Carson observed that her dogs George and Dayla were cornering a creature in their yard. But when she approached, she saw it was a snake and started to panic.
While recording the event, she yelled at the dogs to leave the snake along but the four-legged animals were determined to ward off the slithering invader.
Before she knew it, the dogs threw the snake directly at Roxanne. She expectedly took off running after throwing the phone away. The video has since gone viral.
Please fill in your e-mail so we can share with you our top stories!