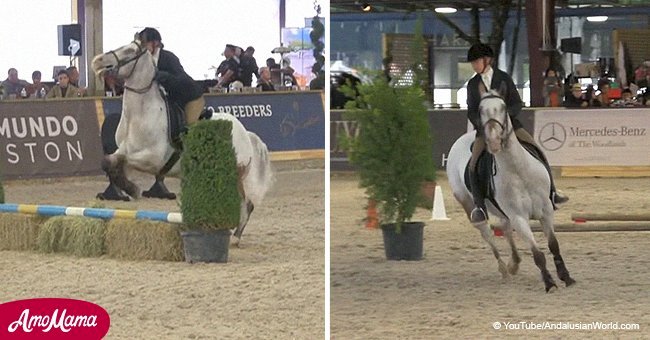 This blind horse can do more than some horses with full sight
When Morgan Wagner's grandmother told her she could keep any horse she wanted, the girl chose Endo. What is different about this horse is that it's blind.
The horse suffered from recurrent uveitis which is also known as moon blindness. However, this didn't stop Wagner from training Endo to take part in equine competitions.
Morgan Wagner has owned Endo for more than a decade despite the horse being blind. The pair competes in working equitation, combining dressage, obstacle and timed obstacle phases, as well as trick training and liberty work.
The sport has allowed them to travel halfway across the country from their native Oregon. They've even gone to Canada to compete and perform.
For more on this story go to our Twitter account @amomama_usa. Besides suffering from recurrent uveitis, Endo also struggled with glaucoma and cataracts for much of his life.
The horse's eyes were often painful and swollen while he gradually went blind. Moon blindness is common in Appaloosas.
Although light cases can be managed, severe cases may require desperate measures. This was the case with Endo who had his first eye removed when he was just twelve.
The second eye was removed six months later. Despite this, Wagner never gave up on her horse where other owners would've opted for euthanasia.
Speaking about her horse losing its eyesight, Wagner had this to say:
"I honestly didn't know how he was going handle life without his sight. But I wanted to give him a chance. I knew that there was a limit where he might have to be to put down if he was unable to cope. Being affected with my own chronic illness, it was difficult to draw the line as to what is a full-quality life."
The pair both suffers from their own individual illnesses as Wagner lives with lupus. She shared how it affected every aspect of her life, at one point leading her into depression.
Endo, on the other hand, adjusted to his blindness within hours of the second surgery. He was seen moving around his stall as though he could still see.
The horse's tenacity encouraged its owner to set goals for her life. Wagner explained how the horse appeared to do almost everything by smell, sensing walls, doors and gates; open or closed.
Endo could even get around trees and other obstacles and always managed to find food. The horse's veterinarian recommended that the horse is returned to all of his normal activities as soon as possible.
Wagner quickly got Endo back into training. It wasn't easy going in the beginning as Endo had a hard time balancing himself and chose not to canter or gallop when Wagner wasn't with him to guide him.
Endo was vocally trained for liberty and trick work but Wagner started training him in working equitation as well. Since then, they've traveled to Canada to perform in an equine theater production.
They've also taken part in two national-level competitions: the Andalusian World Cup in Las Vegas and the Haras Cup in Texas. Watching their video, it is clear to see what a tight bond the two have formed.
In a similar story, Jeanette Sassoon bought a 17-hand, off-the-track Thoroughbred. She then trained for the first time in dressage.
On July 29, 1986, the birth of a foal named Valiant meant Sassoon could explore the sport some more. Six years into his career, Valiant stepped on a horseshoe nail and contracted uveitis.
Just like Wagner, when Valiant became blind, her trainer never gave up on her. The horse performed a musical freestyle at The Festival of Champions at Gladstone in 2003.
The pair also made several high-profile appearances throughout their career together. Valiant's journey ended in November 2013.
After arriving in Wellington, Florida, he was diagnosed with both EPM and West Nile virus. The horse passed away in his stall at Palm Beach Equine Hospital with his head in Sassoon's arms.
Please fill in your e-mail so we can share with you our top stories!