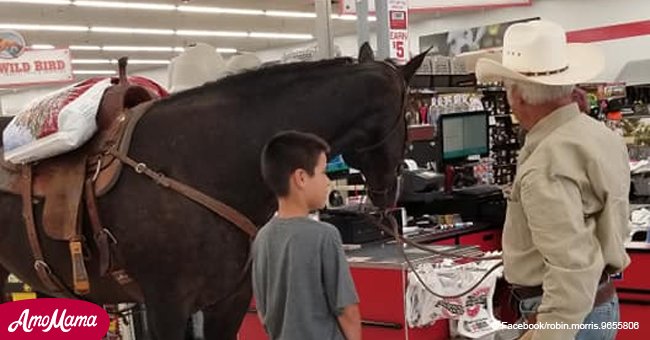 Cowboy takes his horse for a stroll through a store

A store in Oklahoma has a sign out front that said pets are allowed as long as they are on a leash but didn't expect to get a visit from a horse.
Robin Morris was at the tractor store with her kids when they spotted the horse, and she shared several photos and videos to her Facebook page.
Read more on our Twitter account, @amomama_usa. A video clip of the horse's visit to the store can be seen below.
Morris said in her Facebook post that the gentlemen told store employees: "I'm a senior here to buy senior horse feed for my senior horse, can he come in?"
The employees weren't sure if the could allow the horse to enter the store, but their manager said: "Technically our sign [...] does say all pets welcome."
He explained that pets must be on a leash and a bridle is a leash for a horse. Morris's post received more than 85,000 shares in the two days it's been online.
She also shared videos of her children petting the horse and said it was the highlight of their day. In another post, she wrote: "Only in Oklahoma!"
The story was soon picked up by media outlets, and Western Journal commended the store for treating all customers as equals. Even horses.
The senior horse seemed to be enjoying the attention as well, and obediently followed his owner around the store.
Horses are fascinating creatures, and a post on Reddit of a horse photobombing a little girl's picture quickly went viral as well and soon become the site's most popular post.
The horse can be seen posing behind the little girl, with his head tilted at a 45-degree angle. The horse appears to be grinning.
The image has been described as the best photobombing of the year, and the full account can be read here.
Please fill in your e-mail so we can share with you our top stories!